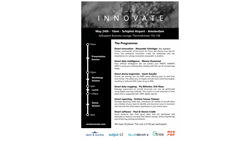 This is no longer science fiction...it is already being deployed by airlines and MROs today!
Englewood, Colorado & Konstanz, Germany (PRWEB) May 02, 2017
Building on the growing adoption of dentCHECK amongst global airlines and MROs, 8tree is now working with notable industry players to develop a force-multiplier that promises to boost efficiency for the aviation maintenance community. In a first-of-its-kind event, the power of smart software suites (Output42, dent & buckle), real-time data intelligence (MRO air), smart-drones (Blue Bear) and smart-mapping (8tree), are brought together at MRO Innovate 2017, to showcase the promise of delivering streamlined maintenance and monitoring to operators worldwide.
"Imagine an automated drone carrying a precision 3D scanner that delivers real-time 'go/no-go' answers when mapping dents and lightning-strikes on an aircraft", said Erik Klaas, CTO, 8tree. "Now imagine that the answers, analytics and information collected by the flying scanner are fed into a cloud-based comprehensive smart software suite that empowers operators to more efficiently track and anticipate interruptions to a carrier's operations. This is no longer science fiction – the various elements of this story are already being deployed by airlines and MROs today! We look forward to showcasing our shared vision of the future and these ready-for-market technologies at the upcoming MRO Innovate event."
At this unique one-day event, four industry shaping companies will share innovative products and workflows intended to help the aviation maintenance industry do business faster, safer and better. With the goal of inspiring operators to embrace innovation today this forum caters to industry executives who are seeking innovative processes to navigate current and future operational challenges. Alongside presentations and group discussions, the event will feature live product demonstrations of technologies being deployed throughout the industry.
MRO Innovate 2017 will be held on May 24th in Amsterdam at JetSupport Business Lounge, Thermiekstraat 156-158 Schiphol Airport.
About 8tree
8tree makes 3D optical surface inspection tools that solve chronic problems for multiple industries. 8tree's products empower every operator – from mechanics on the floor, to engineers in the lab – with precision measurement, portability and performance. With its patented user-centric product design, AR-enabled instant 'go/no-go' answers and 1-button zero-learning curve, 8tree is committed to making precision 3D scanning more broadly accessible – technically and commercially.