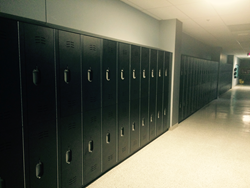 The students love the size and width of their new Duralife Lockers and their backpacks fit comfortably in them. The older students particularly like that they're so cool and sophisticated, and I like how quiet they are.--Dr. Dianna Lindsay, WCA
Scranton, PA (PRWEB) May 02, 2017
Scranton Products has awarded Williamsburg Christian Academy (WCA), in Williamsburg, VA, with $50,000 in new Duralife plastic lockers and a $7,500 scholarship as first prize in the Duralife Unlocker Challenge national video competition. In the highly-divisive climate of the election year, and at a time when racial tensions were growing across the country, students at WCA demonstrated in their winning video how they embrace differences in age, race, religion and ability to create a supportive and successful school environment.
Dr. Dianna Lindsay, head of the high school at Williamsburg Christian Academy, served as adviser to the WCA Leadership Class, which developed the winning Duralife Unlocker Challenge video. She explains they decided to take part in the competition because its theme of inclusivity fit perfectly with the school's mission and culture.
"According to my kids, inclusiveness is a continuing act of love, hope, respect and togetherness. It is about respecting God's creations, loving our fellow humans, hoping for the best by modeling it and living as a family," she says. "It means that we are here to take care of and love one another regardless of our age or status, and live as if every day is our legacy, because it is. The video is that journey in everyone's life--one step at a time, one act of kindness at a time, and one day at a time."
With their new black Duralife lockers delivered, students said they look sharp against the charcoal gray paint. Parent volunteers installed them with the help of a contractor and woodworker in just two days. "The metal lockers were in desperate need of replacement," said Lindsay. "The bright blue color was perceived as babyish by the older students and were old, scratched, littered with writing and didn't close well." Additionally, they were too small. "They essentially used them as trash cans they'd fill with unwanted stuff, not books," says Lindsay.
"The students love the size and width; their backpacks fit comfortably in them. The older students particularly like that they're so cool and sophisticated, and I like how quiet they are," says Lindsay.Maintenance staff also are happy because they're graffiti-resistant and won't harbor bacteria from forgotten food or surface-borne illnesses. A custodian simply dusts the top of the lockers regularly and uses a mild detergent when needed.
The Unlocker Challenge video contest money was given to each of the seniors on the video team, as decided unanimously by their teammates. "This was done both as an act of respect and in deference to their leadership," says Lyndsay.
Williamsburg Christian Academy's was part of the TOP 100 videos selected 260 submissions nationally to be judged by a judging panel. Click here to view WCA's winning video.
About Scranton Products:
For more than 25 years, Scranton Products' premium brands have led the plastic partitions market setting new benchmarks for the industry in quality and innovation. Our well-known brands, including Hiny Hiders®, Resistall™ Tufftec® and Duralife®, feature the most durable, low maintenance and best looking partitions and locker products in the industry. They won't dent, rust or need painting, and because they have color throughout, delamination is not a factor. Visit http://www.scrantonproducts.com.