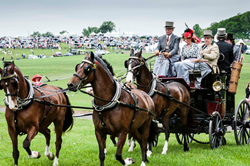 Frolic's gregariousness and charm drew participants from across the country and Europe.
Wilmington, Delaware (PRWEB) May 03, 2017
With a nod to his longtime friend, the late George A. "Frolic" Weymouth of Chadds Ford, Pennsylvania, John Frazier Hunt of Spring City will lead more than two dozen regal, horse-drawn antique carriages through Winterthur's 39th Annual Point-to-Point racecourse on Sunday, May 7, continuing the grand procession now bearing its founder's name, the George A. "Frolic" Weymouth Carriage Parade. He will be joined by Gloria Austin, international carriaging champion, and P. Allen Smith, national tastemaker and new Winterthur Board of Trustees Member.
As the new Chairman of the Carriage Parade Drive, Hunt said he was humbled and honored to take the mantle from his dear friend, who passed away in April 2016, just days before the 38th Annual Point-to-Point.
"This is my 25th year of never missing one of these weekends, it's been so valuable to me. It's been a part of my life," Hunt said, noting that Frolic's gregariousness and charm drew participants from across the country and Europe. "If I wear a size 8 shoes, Frolic had size 80 shoes. I'm just standing in the shadow of a man I had the great pleasure of knowing."
As seen in the December 2012 issue of "Town & Country" magazine, at Winterthur's Point-to-Point Frolic created and led the largest procession of horse-drawn antique carriages in the nation. In 2013, Top Events USA named Point-to-Point one of the best events in the United States. Point-to-Point is the second largest professional sporting event in Delaware and is sanctioned by the National Steeplechase Association.
Gates Open for General Admission 11:30 am -- 4:00 pm.
Winterthur's 2017 Point-to-Point event is sponsored by: Jaguar; Land Rover; Kid Shelleen's; Tito's Handmade Vodka; Capital One; Weymouth, Swayze & Corroon; SC&A Construction; Saint Francis Healthcare; Fox Rothschild LLP; and Marriott's Convention & Resort Network.
Visit Winterthur.org/ptp for admission and other information.