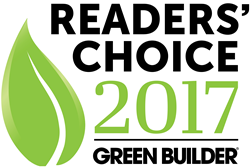 Lake City. Colo. (PRWEB) May 03, 2017
Green Builder Media announces the publication of its 2017 green brand survey. Covering scores of product categories including smart home technology, HVAC, appliances, work vehicles, lighting, insulation, and more, this survey consistently ranks as one of the most widely read articles Green Builder Media publishes.
"If you know builders and architects, the popularity of this brand survey makes sense," says Green Builder Editor-in-Chief Matt Power. "They rely to a large degree on the recommendations of their peers to make product choices. Of course, those selections depend a lot more on whether a product is sustainable. It has to be durable, reliable, predictable and (sometimes) affordable."
The "sustainability" factor is what makes this survey of green pros different from a consumer survey. "Their priorities are different," Power explains. "And keep in mind, these are people who field test products for a living. When they choose Ford trucks over Toyota, it's not about a gut feeling, it's because of personal experience. They like the way the vehicles perform, and how they save fuel and maintenance costs."
In addition to ranking product categories, the survey also asked questions to uncover how building pros consider "brand," when speccing products. The answers to questions like "What is the top reason you consider a new brand?" and "How do you know if a brand is authentic or greenwashing?" provide interesting insight into the growth of sustainable building products in today's residential homes.
Go straight to the survey at http://www.greenbuildermedia.com/2017-readers-choice-awards
Download the Special Awards Issue, which includes the Reader's Choice survey and the Hot 50 Products coverage.
http://www.greenbuildermedia.com/green-builder-magazine-special-awards-issue-2017
For more information, contact Cati O'Keefe at cati.okeefe(at)greenbuildermedia(dot)com