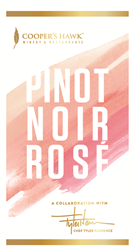 "Tim and (Cooper's Hawk Winemaker) Rob Warren are among the best – our collaboration has produced an exceptionally balanced and nuanced wine."
Chicago, Illinois (PRWEB) May 02, 2017
Cooper's Hawk Winery & Restaurants, a lifestyle dining brand centered around wine, announces today their latest collaboration: a Pinot Noir Rosé crafted with Food Network host, author and winemaker Tyler Florence. The wine is a limited production blend made exclusively for the company's 250,000-plus Wine Club members as the "Wine of the Month". A delightfully delicate yet complex blend loaded with ripe red fruit flavors, this collaboration wine can be sampled by the glass in Cooper's Hawk tasting rooms and restaurants across their 27 locations during the month of May.
Cooper's Hawk Founder & CEO, Tim McEnery, is committed to inclusionary winemaking quests with food and wine trailblazers like Florence. McEnery firmly believes that collaboration not only elevates the industry, it enables Cooper's Hawk to provide exclusive wine experiences to members and guests.
"Winemaking is complex and exciting," says McEnery. "And by collaborating with Tyler, who has a fine-tuned ability to balance flavors, we've been able to create a one-of-a-kind blend that will expand the palates of guests and Wine Club members."
McEnery and Florence share a similar winemaking philosophy whereby great wines arise from the art and science of blending strategically sourced grapes. For the Pinot Noir Rosé collaboration, they worked with a California grower who harvested the fruit at peak of ripeness and allowed just 24 hours of skin contact time before Tyler and the Cooper's Hawk team created the final product in the blending room. This process resulted in a wine with strawberry coloring and very light tannins that pairs wonderfully with summertime foods.
Over the past ten years, Florence has added several wine awards to his list of accomplishments, including top-selling author of 12 cookbooks and proprietor of three acclaimed restaurants.
"As a chef I have worked with people who have amazing talent when it comes to creating captivating flavor profiles," says Florence. "Tim and (Cooper's Hawk Winemaker) Rob Warren are among the best – our collaboration has produced an exceptionally balanced and nuanced wine."
Cooper's Hawk continues to push the boundaries of experiential branding by sharing the excitement that comes from collaborating with culinary luminaries like Tyler Florence, Jean Charles Boisset, Fabio Viviani, Gail Simmons and others. The Tyler Florence Cooper's Hawk Pinot Noir Rosé will be celebrated on Wednesday May 3rd at Ignite Glass Studio in Chicago with a private multicourse dinner and wine pairing, one of the perks enjoyed by Cooper's Hawk Club members.
About Cooper's Hawk Winery & Restaurants
Redefining the modern casual dining experience, Cooper's Hawk is an unparalleled combination of restaurant, winery, Napa-style tasting room, and artisanal retail market. The innovative concept partners with some of the best grape growers in the world to craft the award-winning Cooper's Hawk wine collection. Additionally, Cooper's Hawk is the American winery with the largest Wine Club, a life-style driven monthly affiliation offering exclusive wines, events, and privileges to its 250,000+ members.