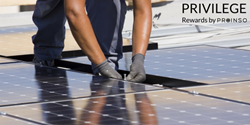 The biggest cost-decline opportunity in the solar industry exists in soft costs.
Sacramento, CA (PRWEB) May 03, 2017
Contractors want more than just a competitive price from their distributor, according to a survey of some 2,500 global customers of PROINSO (http://www.Proinso.net/Privilege). They want reduction of soft costs on customer acquisition and operation.
This is supported by the recent SEIA report stating soft costs accounted for up to 67% of total system pricing, concluding that "the biggest cost-decline opportunity in the solar industry exists in soft costs". Customers also asked for in-depth technical training and market intelligence, regarding opportunities for growth and potential risks for their businesses.
PROINSO believes that adoption of the latest technologies by solar professionals will be crucial in their "war against soft costs". According to McKinsey & Co. up to 45% of the activities individuals are paid to perform can be automated. After analyzing the leading software platforms and technology for solar professionals available in the market, PROINSO identified and partnered with selected companies, including winners of the DOT's SunShot Initiative.
This is pertinent also to markets with low labor cost; as speed, accuracy and reliability of designs, proposals and analysis through automation will lower other financial and reputational risks.
Brett Pearson, Head of Customer Rewards, said: "We took to heart what our customers told us; in that they liked our ever-growing Qualified Installer Network, but wanted easier access to services to help in managing the ever-changing market and addressing the day-to-day costs of running a PV business.
"After 10 years in solar, on six continents, PROINSO, takes a broader perspective to risk and opportunity. Working with our vendors and partners we are able to translate this into tangible discounted services, products and support offered to our clients through PRIVILEGE Rewards."
The current benefits available from the rewards scheme varies by region, but include:

Leads - pay-on-success leads (powered by Sunmetrix) and 50% discount on EnergySage marketplace fees;
Exclusive Products - access early market introductions to new products from leading brands;
Software - exclusive discounts from Helioscope design software and Enact sales and process automation platform;
Equipment - discounts on surveying-drones and electrical testing equipment;
Travel – discounted airport lounge access (and car hire coming soon);
Legal - free 30-minute consultation + discounts on legal templates;
Intel - periodic regional market intel reports from primary and curated sources;
Training - regular "deep-dive" technical training from industry-leading manufacturers;
Business Enhancement - Exclusive lifetime membership discount to ReadItFor.me – video and audio summaries and team exercises to implement practices from the world's best business management and strategy books;
Marketing Support - on large & specialist PROINSO-supplied projects;
Payment terms and credit where available - reserved for Privilege members.
To kick-off the launch of PRIVILEGE Rewards, PROINSO recently ran a series of introductory & technical training events in conjunction with Huawei, SMA, OMRON and Jinko Solar in the US (Sacramento, Boston, Austin and Dallas), South Africa (Johannesburg) and India (Bangalore, Mumbai and Hyderabad).
PRIVILEGE is available immediately in the US, with full or comparable benefits available in other regions later in Q2 2017. For more information about PRIVILEGE Rewards and our upcoming training events, please visit ‪http://www.Proinso.net/Privilege‬‬‬‬.
ABOUT PROINSO
‪http://www.Proinso.net/
PROINSO has over 10 years of solar experience, achieved over 2.7GW of projects supplied and operates in 6 continents. PROINSO is a leading global distributor and integrator of PV modules, inverters, mounting systems and trackers. PROINSO has three divisions focusing on Distribution & Integration, Manufacturing of Structures and EPM (Engineering, Procurement and Management). Exclusive products, services and discounts are available to customers registered for PROINSO's PRIVILEGE Rewards program.