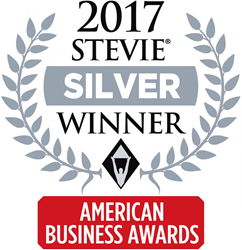 We are honored to be recognized by the prestigious American Business Awards for creating a big data solution that drastically accelerates insight and time to value for some of the worlds' largest companies.
Boston, Massachusetts (PRWEB) May 02, 2017
Cambridge Semantics, the leading provider of Big Data management and analytics solutions, was named today as the winner of a Silver Stevie® Award in the Software - Big Data Solution category for its Anzo Graph Query Engine™ (AGQE) in The 15th Annual American Business Awards.
Anzo GQE was launched in March 2016 in an effort to better satisfy enterprise-wide data discovery and analytics challenges faced by IT organizations and business line users. It is a clustered, in-memory graph analytics engine that runs 100 times faster than its nearest competitor, permits users to ask any questions of their data, and can scale to handle diverse enterprise-wide data.
Powering Cambridge Semantics' industry-leading Smart Data Lake product offering is the In-Memory Massively Parallel Processing (MPP) Engine - the most advanced of its kind – allowing ad-hoc and interactive queries at a scale never before thought possible. AGQE scales across hundreds of virtual machines in the cloud or on-premise for analyzing data sets comprising trillions of interconnected facts and relationships (triples) – without query tuning or indexing.
The American Business Awards are the nation's premier business awards program. All organizations operating in the U.S.A. are eligible to submit nominations – public and private, for-profit and non-profit, large and small.
Nicknamed the Stevies for the Greek word meaning "crowned," the awards will be presented to winners at a gala ceremony at the Marriott Marquis Hotel in New York on Tuesday, June 20.
"We are honored to be recognized by the prestigious American Business Awards for creating a big data solution that drastically accelerates insight and time to value for some of the worlds' largest companies spanning Life Sciences, Financial Services and many other data intensive industries," said Alok Prasad, president, Cambridge Semantics. "The Stevie award is a testament to our team's relentless dedication to providing Smart Data Lake solutions that tackle complex data management and analytics challenges, enabling users to get answers to questions in seconds, minutes and hours, as opposed to weeks and months."
"Each year the judges find the quality and variety of the nominations to be greater than the year before," said Michael Gallagher, president and founder of the Stevie Awards. "The 2017 competition was intense and every organization that has won should be proud."
More than 3,600 nominations from organizations of all sizes and in virtually every industry were submitted this year for consideration in a wide range of categories, including Startup of the Year, Executive of the Year, Best New Product or Service of the Year, Marketing Campaign of the Year, Live Event of the Year, and App of the Year, among others.
To see the complete lists of Gold, Silver and Bronze Stevie Award winners by category visit the ABA website at http://www.StevieAwards.com/ABA
About the Stevie Awards
Stevie Awards are conferred in seven programs: the Asia-Pacific Stevie Awards, the German Stevie Awards, The American Business Awards, The International Business Awards, the Stevie Awards for Women in Business, the Stevie Awards for Great Employers, and the Stevie Awards for Sales & Customer Service. Stevie Awards competitions receive more than 10,000 entries each year from organizations in more than 60 nations. Honoring organizations of all types and sizes and the people behind them, the Stevies recognize outstanding performances in the workplace worldwide. Learn more about the Stevie Awards at http://www.StevieAwards.com.
About Cambridge Semantics
Cambridge Semantics (CSI), the Smart Data Company, is an enterprise smart data management and exploratory analytics company. It enables customers and partners to rapidly build and deploy Smart Data Lake solutions based on its award-winning Anzo Smart Data Platform™ (Anzo SDP).
IT departments and business users gain better understanding and data value through the semantic linking, analysis and management of diverse data whether internal or external, structured or unstructured. The Anzo Smart Data Lake solutions are delivered with increased speed, at big data scale and at a fraction of the implementation costs of using traditional approaches.
The company is based in Boston, Massachusetts.
For more information, visit http://www.cambridgesemantics.com or follow us on Facebook, LinkedIn and Twitter: @CamSemantics.