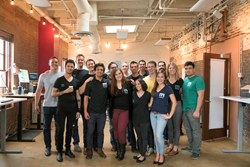 Over the last 24 months, I witnessed Measurabl become the clear market leader in sustainability software.
San Diego, CA (PRWEB) May 03, 2017
Measurabl is pleased to announce two new hires: Dana Arnold as Chief Operating Officer and Arielle Slaby as Vice President of Customer Success. Arnold assumes responsibility for department-level operations including human resources, accounting, legal, and international operations. Slaby will oversee deployment and ongoing service for the company's multinational clientele who collectively run Measurabl at over 3,000 owned or leased buildings in 67 countries.
Arnold previously ran two departments – a 20-person Data Services team and a 4-person Customer Success team – at Goby, a tech-enabled real estate consultancy. Slaby comes from CBRE, the world's largest real estate services company, where she led a 3-person team responsible for CBRE's energy, sustainability, and bill payment platform, Utility Insight.
"Dana and Arielle are both domain experts, technically savvy, and well respected in the real estate industry," said Matt Ellis, Measurabl's CEO and Founder. "We're extremely happy they made the decision to join our team and have already seen the benefit to our clients and operations, particularly as we service customers overseas."
"Over the last 24 months, I witnessed Measurabl become the clear market leader in sustainability software," Arnold said. "I knew Measurabl was a company I wanted to join and help expand due to its clarity of mission and quality of product."
"Measurabl understands the depth and breadth of sustainability challenges faced by the built environment," said Slaby. "It's exciting to be a part of a company that is continuously evolving to solve client needs."
Arnold and Slaby are the latest in a sustained series of hires at a time when Measurabl has increased revenue for 24 consecutive months and added two new venture capital backers to its existing roster of top tier investors.
"I've done several dozen software investments. The growth rates Measurabl has achieved and incredible customer loyalty demonstrated in the last 18 months are rare, especially in large, complex, and relatively new markets like sustainability and real estate technology," said Rick Smith of LA-based Crosscut Ventures, an early investor in Measurabl. "We're extremely excited to watch this company continue going from strength to strength and look forward to further supporting their growth."
Measurabl reached a total subscriber base of 4 billion square feet and 20,000 commercial properties across 67 countries, and is now the sustainability software of choice for an unprecedented 40% of the world's Top 30 Investment Managers as of April 30, 2017.
About Measurabl
Measurabl is sustainability solved by software. More than 20,000 properties – representing 4BN square feet across 67 countries – use Measurabl to measure, manage, and improve their energy and sustainability performance, making us the world's fastest growing enterprise energy and sustainability software. Measurabl gives companies the ability to automatically collect utility data, report on sustainability performance, and identify energy and water efficiency opportunities while simplifying reports to global sustainability benchmarks like GRESB and CDP. Our scalability has helped Measurabl emerge as the global clearinghouse for corporate non-financial data, empowering companies and their stakeholders to act and invest sustainably. Learn more about Measurabl at http://www.measurabl.com.