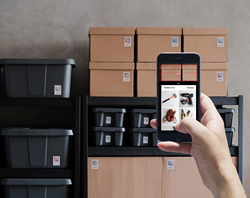 The problem with putting things away is that it's always that one item you desperately need that you can't find – that's where Quick Peek really proves it's worth.
Pasadena, Calif. (PRWEB) May 04, 2017
That ever-so-familiar feeling of trying to find a needle in a haystack after a move is a thing of the past as Bluelounge today announces its app and smart labeling system, Quick Peek. Quick Peek combines smart labels with a free app to help homeowners snap photos and catalog everything they pack away so that once it's out of sight, it can easily be found again with the touch of a few buttons.
"While Quick Peek will be super helpful for those on the move, we see a broader audience for the app extending to anyone who has stuff that they would like organized and stored," said Dominic Symons, Creative Director and Founder of Bluelounge. "The problem with putting things away is that it's always that one item you desperately need that you can't find – that's where Quick Peek really proves it's worth."
Quick Peek allows consumers to snap, store, and find items quickly through the use of a app on their phone. The magical scanning function lets consumers wave their phone over the labels and see the exact contents of each box.
Using Quick Peek is easy; simply download the complimentary app from the Apple App Store and purchase labels. Labels can either be purchased as a set of 32 or 100, pre-printed, full-color adhesive labels or downloaded and self-printed. If self-printing, an in-app credit purchase is needed to be able to use the labels.
With the labels and app in hand, just scan the code on the label, build a box within the app, fill the box, snap a photo of the contents and take notes on what is packed away to have everything cataloged and ready for when it's needed. Photos can either be taken item-by-item for a more detailed accounting of things or a group shot can be taken to speed up the process.
When looking for specific items, Quick Peek helps consumers find things in a flash simply by searching using keywords, browsing a gallery of photos or by using the scanning feature to scan the physical label and see what's inside each box. Users can also sort by location or see a full list of all boxes within the app.
Beyond packing and moving, Quick Peek can also be useful to get organized, catalog a storage unit or collection, small business inventory or even provide a list of items for an insurance claim if loss or damage occurs.
Quick Peek will be coming to select retailers soon. Currently, consumers can buy Quick Peek smart labels online at http://www.bluelounge.com, 32 labels for $9.95, 100 labels for $24.95 or download and self-print labels and complete an in-app purchase to use 10 labels for $2.99, 20 labels for $5.99, 50 labels for $9.99, 75 labels for $14.99, or 100 labels for $18.99.
The free Quick Peek app is available for download in the Apple App Store, available only for iOS, at this time.
For more information on Quick Peek, visit https://www.bluelounge.com/products/quick-peek.
Follow Bluelounge on Twitter, Facebook, and Instagram for the latest news on all Bluelounge products.
About Bluelounge
Bluelounge is an award-winning, international design studio known for its clever products that solve everyday problems through design.
Each product is designed to provide an effortless solution that stands the test of time and integrates into your life so seamlessly, you can't remember living without it.
Under the creative direction of Dominic Symons, the Bluelounge team is a vibrant collective that champions ingenuity and embraces creativity to fuel innovation.
Bluelounge is headquartered in Singapore, with studios in Jakarta, Indonesia and Pasadena, California.
# # #
Note to reporters: High-res images are available here: http://www.bluelounge.com/us/gallery/
Media Contact:
Demi Malinowski
demi(at)bluelounge(dot)com