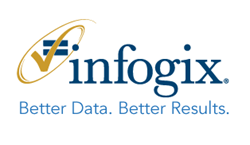 The process of surveying the market data landscape to assess vendor coverage, data quality, cost, and gain benchmarking information is intensive.
Naperville, IL (PRWEB) May 03, 2017
Infogix, a data and analytics software provider, and 3d Innovations (3di), a data management services company, today announced a partnership designed to provide asset managers valuable insights in their quest to more efficiently leverage their market data spend.
The partnership integrates Infogix's leading data governance solutions with 3di's web-based intelligence tools containing real-time and historical evaluations about market data services. In one integrated data governance dashboard, customers gain an understanding of both the market data services they are using today and can receive detailed profiles, independent reviews, and assess alternatives for market data providers. This integration provides valuable perspectives on more than 800 market data services and vendors, and 1,800 data products collected from a seasoned team of financial services consultants and users from more than 60 organizations who are dedicated to sharing their real-world experiences.
"The process of surveying the market data landscape to assess vendor coverage, data quality, cost, and gain benchmarking information is intensive," said Jeff Shortis, general manager of data governance at Infogix. "By integrating 3di's industry intelligence tools into our platform, we can now provide asset managers with access to detailed profiles and objective reviews on market data providers, making it easy for them to make well-informed decisions to optimize the market data spend right from the data governance solution."
The collaboration also gives asset managers the opportunity to better understand the market data service landscape. Using comprehensive, structured reviews covering the costs, strengths and weaknesses, expectations and offerings of competing data services, asset managers can gain mission-critical information in one place for the first time.
"In today's day and age, you wouldn't purchase a computer, buy a car, or go to a restaurant without reading honest user reviews or firsthand reports," said Stephen Veasey, CEO of 3d Innovations. "We've taken 20 years of consulting experience and integrated the knowledge of more than 100 clients and market data service buyers to create the most comprehensive tool to capture evaluations on vendors to help our clients maximize their return on investment."
The reviews, which are already transforming the market data services industry, follow a rigorous vetting process before going live. The collaboration also ensures a level of data quality and objectivity around the records asset managers are purchasing.
"This partnership streamlines the ability to leverage 3di's knowledge and expert services within an asset management organization's data governance program by producing insights regarding data usage and lineage," said Shortis.
"3di's reviews are insightful, authentic and truthful. I am confident we will emerge as the definitive community for asset managers to turn to for unbiased evaluations and discussions around vendor solutions and best practices," said Veasey.
Infogix's integration with 3di's tools are available starting today through a single seat licensing model. For more information about Infogix, visit http://www.infogix.com/products/infogix-data3sixty. For more information about 3di and their reviews, visit http://3di-ltd.com.
About 3di
A data management firm with offices in the UK and US, 3di specialises in three distinct areas of financial services data; market, reference and computational/derived data. 3di uses its global markets knowledge to offer investment banks, brokerages, central banks, investment managers, hedge funds, private banks, commodity trading houses and wealth managers best practice data management support. Visit http://www.3di-inc.com for more information.
About Infogix
Customers rely upon Infogix data quality to deliver trustworthy data which is subsequently liberated through big data analytics and data governance, which simpli¬fies the arcane world of IT data for business users. Transforming data accuracy and providing introspective analytical and data governance insights substantially lowers risk, provides auditable evidence and standardized processes for regulatory compliance, and improves operational efficiencies. To learn more visit http://www.infogix.com or @Infogix.