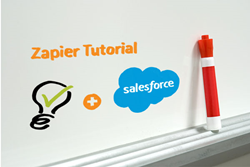 We are excited about launching this partnership with Zapier to integrate SignUpGenius seamlessly with hundreds of web applications. -SignUpGenius CEO Dan Rutledge
Charlotte, North Carolina (PRWEB) May 04, 2017
SignUpGenius, the leading online sign up site for event and volunteer management, has launched a partnership with Zapier, a service that shares data between popular applications.
The Zapier integration automatically syncs sign up information with more than 750 web tools, making group organizing even easier for SignUpGenius Pro subscribers. Zapier creates powerful workflows by connecting SignUpGenius to Salesforce, Constant Contact, Google Sheets and hundreds of other applications.
SignUpGenius Pro subscribers can create "zaps" that link applications for uses such as automatically adding people who sign up for events to their Salesforce contacts.
"We are excited about launching this partnership with Zapier to integrate SignUpGenius seamlessly with hundreds of web applications," SignUpGenius CEO Dan Rutledge said. "Our Pro users can now easily share the information they need between their favorite tools to help their groups change the world."
SignUpGenius also has launched a new partner API (Application Programing Interface) that allows other software vendors to connect their applications with its online sign up service. SignUpGenius recently initiated a new partnership program with MobileArq, a tool facilitating communication between parents and schools, and InstaTeam, a sports team management application.
More than 66 million people visited SignUpGenius in 2016, and users planned 2.3 million events on the site. Parents magazine named SignUpGenius to its 2016 50 Best of the Web Awards list, and the company also was recognized as Small Tech Company of the Year at the 2016 NC Tech Awards, North Carolina's largest and most prestigious statewide technology awards program.
About SignUpGenius
SignUpGenius simplifies the process of coordinating events and people by providing online sign ups for nonprofits, schools, sports, churches, families, colleges, businesses and organizations. By enabling up to 12 million unique visitors per month to sign up for tasks online, SignUpGenius has done away with the need for paper sign ups, "reply-all" emails and phone trees.
SignUpGenius on Facebook: http://www.facebook.com/SignUpGenius
SignUpGenius on Twitter: http://www.twitter.com/SignUpGenius
Contact SignUpGenius: press(at)signupgenius(dot)com