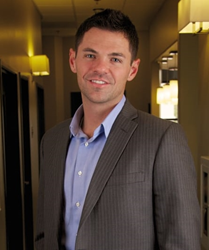 Las Vegas, NV (PRWEB) May 02, 2017
New patients with missing teeth can now receive same-day dental implants in Las Vegas, NV, from experienced periodontist, Dr. Curry Leavitt, without a referral. Dental implants offer the unique benefits of bone stimulation and durability, which is why they are commonly recommended by dental professionals for those who have tooth loss. Dr. Leavitt seeks to maximize the convenience of dental implant placement procedures by offering same-day implant solutions to ensure that patients can quickly reach proper oral health.
Those who have multiple missing teeth typically find it difficult to eat a healthy, varied diet. They may also be unable to communicate effectively with their loved ones and may feel embarrassed about their appearance. While dentures can be used to restore some dental functionality and appearance, they can slip or even fall out of the mouth during normal activities like speaking and eating. Additionally, dentures are unable to stimulate proper bone growth as dental implants do, leading to bone loss and eventually a change in facial shape and appearance.
Same-day dental implants in Las Vegas, NV maximize the convenience of dental implants by making them available for use after one appointment. These implants can provide life-changing benefits including full dental functionality, proper bone growth and a complete smile. Dr. Leavitt and his team at Red Rock Periodontics & Implantology specialize in providing implants to patients with single or multiple missing teeth. In some cases, Dr. Leavitt may recommend patients receive a bone grafting procedure to ensure implants are thoroughly supported and last a lifetime.
Patients with single, multiple or a full arch of missing teeth are encouraged to find out if they are good candidates for dental implants in Las Vegas, NV. Consultations with Dr. Leavitt can be scheduled by calling Red Rock Periodontics & Implantology at 702-834-8900 or visiting http://www.redrockperio.com.
About the Doctor
Red Rocks Periodontics and Implantology is a leading periodontal practice serving patients personalized care in the Las Vegas, NV area. Dr. Curry Leavitt is a highly-trained periodontist who focuses on the art and science of state-of-the-art periodontics. Dr. Leavitt and his team are devoted to progress, cutting-edge procedures and the latest dental technology to ensure patients receive minimally-invasive and effective care. Offering a variety of services, the Red Rock Periodontics and Implantology team provides laser gum surgery treatment, same-day dental implant placement and calming sedation dentistry. To learn more about Dr. Leavitt, his practice or the services he offers, visit http://www.redrockperio.com or call 702-834-8900 to schedule a custom consultation.