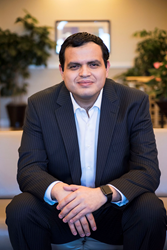 "It's a very exciting time at RBF Law," says Edgar Barraza. "I look forward to flourishing with the firm and hope to become a litigator as exceptional as my new colleagues while maintaining a strong sense of social responsibility."
Greenwood Village, Colorado (PRWEB) May 04, 2017
Edgar Barraza, the first "DREAMer" to be admitted as a lawyer to the Colorado State Bar, has joined Rollin Braswell Fisher LLC (RBF Law). Barraza is a unique hire for the Colorado based litigation firm as he is one of a small handful of attorneys in the United States to overcome the struggle of an undocumented immigration status and become a practicing attorney.
RBF Law partner Michael Rollin comments, "Edgar is extremely bright and a great addition to our commercial litigation and appellate practice. His life story is inspiring and he reminds us of the struggles and successes of our own dauntless immigrant families."
Barraza's practice focuses on complex commercial litigation, product liability, and financial services at RBF Law. "It's a very exciting time at RBF Law," says Barraza. "I look forward to flourishing with the firm and hope to become a litigator as exceptional as my new colleagues while maintaining a strong sense of social responsibility."
Rollin notes, "RBF Law lives its commitment to diversity and inclusiveness, not only because it's the right thing to do, but because our firm and our work are better for it."
Prior to joining RBF Law, Barraza served as a judicial law clerk to the Honorable Andrew P.
McCallin of the Denver District Court. Through his clerkship, he acquired an understanding of effective litigation techniques and proven decision-making skills necessary for the rigorous demands of his civil and commercial litigation practice.
Barraza's journey to becoming the first "DREAMer" lawyer in Colorado started at a young age. He came to the United States as an 11-year-old from Mexico and overcame the language barrier while enrolled as a student in Denver Public Schools (DPS). As a teen, he worked full time at a fast food chain while attending Denver's West High School. Determined to support his family, he also worked hard in school to get the education he knew would help him succeed and advance. Balancing work and school, he graduated sixth in a class of more than 250 students.
Aware that obtaining a college education would be a challenge given his former undocumented status, Barraza participated in the University of Denver's Volunteers in Partnership (VIP) program before applying. Upon acceptance to DU, he was awarded a full-ride Nagel International Scholarship and majored in International Studies and Political Science at the Josef Korbel School of International Studies. Throughout college, he worked nights and weekends at the same fast food chain restaurant he worked at as a teen. He earned his law degree at the University of Denver Sturm College of Law.
While attending law school, Barraza benefited from President Barack Obama's 2012 Deferred Action for Childhood Arrivals executive action. This allowed him to work and live in the United States without fear of deportation and, subsequently, formally apply for admission to the Colorado State Bar.
In addition to his complex civil and commercial litigation law practice, Barraza is committed to community service. He is a committee member and co-founder of Law School – Yes We Can, a program that helps students from underrepresented backgrounds gain access to a law school education through mentoring and educational workshops. He is a member of the Colorado Hispanic Bar Association and a volunteer for Denver Legal Nights at Mi Casa Resource Center and Centro San Juan Diego.
Maritza Dominguez Braswell, managing partner at RBF Law emphasizes, "As the daughter of Mexican immigrants myself, I've seen first-hand how hard work fuels the dreams of this community. Edgar embodies that and more. He's a shining star."