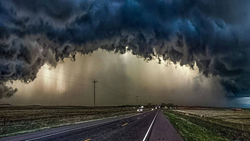 Chattanooga, TN and Austin, TX (PRWEB) May 03, 2017
TransFX and Riskpulse have signed an exclusive agreement to integrate the unique weather analytics and insights from Riskpulse's expert team of meteorologists and data scientists in TransFX's products and solutions suite.
Riskpulse enables decision-makers across the supply chain to standardize and quantify risk associated with the movement of goods through probabilistic intelligence, data visualization, shipment-level analytics, and recommendations embedded in the company's cloud-based platforms. Its team of experienced meteorologists and data scientists conduct pioneering research and analyze weather data to provide forecasts at lead times greater than typical numerical guidance alone can provide.
"Weather is one of the biggest disruptors causing market volatility both in the short term and the long term," said Craig Fuller, CEO of TransFX. "Riskpulse is the pre-eminent leader in weather prognostication with its deep bench of meteorologists and data experts. The inclusion of Riskpulse's weather expertise will add valuable insight for brokers, carriers and shippers taking advantage of our developing suite of TransFX products."
Agriculture and energy commodities traders rely on Riskpulse to understand how weather phenomena across the globe will impact markets so they can trade with confidence. Riskpulse also helps shippers, carriers, distributors, and receivers better manage increased complexity of the shipment lifecycle, generate greater transparency to operational risks, and avoid losses caused by natural, social, or infrastructure-driven disasters.
"Sometimes the future arrives sooner than you expect, and this is one of those times," said Matthew Wensing, CEO of Riskpulse. "We've seen the potential in other markets -- the value of weather analysis to predict commodity price volatility has been second nature to natural gas, oil, and grain traders since the 1980's. We now have the ability to unlock that same value within transportation, and we're thrilled to partner with TransFX to see the advent of this market."
TransFX seeks to offer freight futures contracts that allow participants to hedge against rate volatility in the physical market. The financially settled contracts, which will feature no physical delivery or service, are meant to be a risk-management tool that participants can use to normalize price fluctuations. TransFX will list contracts that are financially settled using DAT's data for major freight lanes in the U.S.
In addition, TransFX is building tools for real-time price discovery and execution so digital-enabled 3PLs can provide faster quote execution and prices to customers.
About TransFX
TransFX is creating products and solutions that provide transparency and risk management solutions to help transportation industry participants efficiently manage price risk in the North American freight transportation market. The TransFX executive team has collectively managed over $40B in freight contracts and deeply understands the market volatility challenges within the trucking and logistics industry. That experience, coupled with a team of veteran trading exchange and regulatory executives, is helping to create solutions that solves for an unserved and highly addressable market need. TransFX is based in the center of "Freight Alley" in Chattanooga and is backed by Hunt Technology Ventures, L.P. For more, visit: http://www.transfx.exchange.
About Riskpulse
Riskpulse is a supply chain risk analytics company that helps its clients and their partners increase the predictability and stability of their financial and physical operations globally. Many of the largest food shippers, consumer packaged goods manufacturers, automakers, and retailers trust the Riskpulse Score (RpS) and the Riskpulse suite of cloud-based software applications to standardize their quantification of risk and guide their operational planning. Commodity investment firms depend on Riskpulse probabilistic forecasts and advisory services to guide their understanding of weather's impact on supply and demand. Headquartered in Austin, TX, Riskpulse is rapidly becoming the standard way for members of the supply chain to get the signals they need to optimize for risk. For more information, visit http://www.riskpulse.com.
TransFX Media Contact:
Lisa McGinty
615.881.9979
lmcginty@transfx.exchange
Riskpulse Media Contact:
Ryan Barcza
614-271-5480
ryan.barcza@riskpulse.com