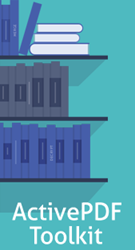 "We are always looking for opportunities to enhance the developer experience and expand our robust feature set. With Toolkit 2017, I believe we've accomplished this and more."
Laguna Niguel, CA (PRWEB) May 03, 2017
ActivePDF, the leading provider of PDF automation tools, has announced major enhancements to Toolkit, the company's flagship product. Toolkit 2017 now includes new annotation types, with the capability to find, modify and delete existing annotations. Other enhancements include the ability to merge multiple files in a single call, as well as support for trusted timestamping when applying digital signatures.
Initially introduced in 2000, Toolkit is the premier tool for automated PDF manipulation and creation. With the release of Toolkit 2017, ActivePDF provides developers the ability to do more with PDF than ever before.
"Everyone from the engineers to the sales executives are excited about the release of Toolkit 2017," says Nicole Diaz, Chief Product Officer for ActivePDF. "We are always looking for opportunities to enhance the developer experience and expand our robust feature set. With Toolkit 2017, I believe we've accomplished this and more."
New features added to ActivePDF Toolkit include:

Methods and properties to programmatically delete and add annotations, along with support for additional annotation types such as highlights, circles, squares, and FreeText callouts.
Single call to merge multiple files into a single output PDF. Previously, merging multiple files required multiple calls. The new release streamlines the process, making it simple to merge multiple files together in a single pass.
Trusted timestamping is available when calling the digital signature object, adding reliability and assisting with proper validation.
This year has already been an exciting one for Toolkit. In February 2017, ActivePDF introduced Toolkit Desktop, enabling developers to extend PDF manipulation capabilities to their desktop applications. While historically ActivePDF has primarily focused on delivering server-based PDF solutions, Toolkit Desktop signifies the first of the company's product suite to enter the desktop space.
To learn more about the capabilities of ActivePDF Toolkit, visit Toolkit Release Notes and Toolkit Product Page.
About ActivePDF
Founded 2000, ActivePDF Inc., is privately held and is a global provider of PDF tools for integration within virtually any business process, including Enterprise Content Management (ECM), Document Management, and Workflow solutions. The ActivePDF suite is designed to streamline large volumes of rendering and assembly of content into accurate, secure and accessible PDFs. We serve over 25,000 customers from 90 countries in numerous industries including: Healthcare, Financial, Education, Manufacturing, Utilities, Engineering, Legal and Government. For more company information, visit ActivePDF at https://www.activepdf.com.
####
ActivePDF is a registered trademark of ActivePDF. All other trademarks are property of their respective owners.