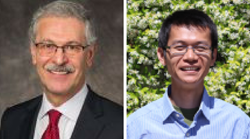 Yorba Linda, Ca (PRWEB) May 04, 2017
Crohn's disease (CD) results from a complex interplay between host genetic factors and endogenous microbial communities. In the current study, the Ghannoum lab used Ion Torrent sequencing to characterize the gut bacterial microbiota (bacteriome) and fungal community (mycobiome) in patients with CD and their non-diseased first degree relatives (NCDR) in 9 familial clusters living in Northern France/Belgium, and in healthy individuals from 4 families living in the same area (non-CD unrelated, NCDU).
Significant microbial interactions were identified and validated using single- and mixed-species biofilms. CD and non-diseased first degree relatives groups clustered together in the mycobiome, but not in bacteriome. Recent research is showing that this fungal-bacterial interaction is detrimental to the host, novel prevention and treatment approaches are needed to interfere with this cooperation and restore the microbiome balance.
In this webinar, attendees will learn about the mycobiome contribute to digestive tract health and Crohn's disease. They will also learn how individual steps in their microbiomics workflow can be standardized to greatly improve the quality and reproducibility of the data generated.
Dr. Mahmoud Ghannoum, professor and director at the Center for Medical Mycology, Case Western Reserve University and University Hospitals Case Medical Center, will be a speaker for this event along with Dr. Shuiquan Tang, scientist at Zymo Research Corp.
Ghannoum received a Master of Science in medicinal chemistry and doctorate in microbial physiology from University of Technology in England, and an MBA from the Weatherhead School of Management at Case. Presently he is a tenured Professor and Director of the Center for Medical Mycology, Case Western Reserve University and University Hospitals Case Medical Center (UH). He is also a fellow of the Infectious Disease Society of America and past President of the Medical Mycological Society of the Americas (MMSA).
Tang received a doctorate of chemical engineering and applied chemistry from the University of Toronto. He joined Zymo Research in 2014, and has since been instrumental in the research and development of Zymo's microbiomics and metagenomics programs. His past experiences include work in the fields of environmental microbiology and biological process engineering, with an emphasis on bioinformatics, metagenomics and anaerobic cultivation.
LabRoots will host the webinar May 22, 2017, beginning at 8:00 a.m. PDT, 11:00 a.m. ET. To read more about this event, discover the continuing education credits offered, or to register for free, click here.
About Zymo Research Corp.
Zymo Research Corp. is a privately held nucleic acid purification company based in Irvine, California, USA. Since its inception in 1994 it has been serving the academic and biopharmaceutical scientific communities by providing DNA and RNA purification products. In early 2016 Zymo Research developed ZymoBIOMICS®, a comprehensive line of microbiomics related products including two microbial standards, to assist researchers in accurate microbial profiling. In addition its microbiomic, epigenetic, and nucleic acid purification products, Zymo Research also provides genetic, epigenetic and transcriptome analysis services. Follow Zymo Research Corporation on Facebook, LinkedIn, Twitter, and Instagram.
About LabRoots
LabRoots is the leading scientific social networking website and producer of educational virtual events and webinars. Contributing to the advancement of science through content sharing capabilities, LabRoots is a powerful advocate in amplifying global networks and communities. Founded in 2008, LabRoots emphasizes digital innovation in scientific collaboration and learning, and is a primary source for current scientific news, webinars, virtual conferences, and more. LabRoots has grown into the world's largest series of virtual events within the Life Sciences and Clinical Diagnostics community.