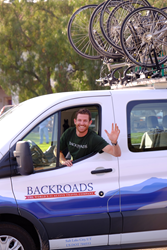 The evolution of the bike has empowered us to explore the world actively from a two-wheeled perspective, creating the opportunity to connect better and more deeply with the people and areas Backroads guests are visiting
Berkeley, CA (PRWEB) May 03, 2017
This summer marks 200 years since the bicycle was first invented and nearly 40 years since Backroads started using bikes as a way to see the world. Born out of necessity, the bicycle has evolved from a way for people to move faster under their own power to a primary mode of transportation and physical activity for people across the globe today. Approximately 100 million Americans ride bikes annually and studies show more than half of adults in the United States would like to ride more often. Backroads has been ahead of this trend with nearly four decades of planning recreational bike trips at home and abroad. This year Backroads has scheduled over 1,200 dedicated bike tour departures, and biking is also a featured activity on hundreds of Backroads multisport adventure trips.
In 1815, in what is now known as Indonesia, the eruption of Mount Tambora caused massive devastation to neighboring communities, crops and horses, forcing inhabitants to walk great distances to find food. The tragedy inspired German inventor Karl Drais to make human-powered travel faster and in 1817 he developed the velocipede—the first iteration of the modern bicycle. Two hundred years later, Backroads offers a fleet of custom aerospace-grade titanium road bikes with top-of-the-line components and handlebar options, as well as electric-assist bikes for those who want an extra boost up the hills.
"There have been amazing advancements in the way bikes are crafted since I started Backroads almost 40 years ago. Today they're lighter, faster, more durable and sleeker than I could ever have imagined," said Tom Hale, Founder and President of Backroads. "The evolution of the bike has empowered us to explore the world actively from a two-wheeled perspective, creating the opportunity to connect better and more deeply with the people and areas our guests are visiting. I really don't think there's anything else that compares to that feeling."
This year, there are more ways than ever to celebrate the 200th anniversary of the bicycle with Backroads, including a trip from Berlin to Dresden, not far from Drais' workshop in southern Germany, where the bike was invented. Backroads' most popular US and international bike trips, along with the company's most challenging trips, family trips and leisurely bike tours are outlined below.
New US Bike Trips in 2017
· Hudson Valley Bike Tour
· Napa Valley Bike Tour
· Tucson & Sonoran Desert Bike Tour
New International Bike Trips in 2017
· Bermuda Bike Tour
· Czech Republic & Austria Bike Tour
· Munich to Salzburg Bike Tour
· Portugal Bike Tour
· Provence Bike Tour
· Vietnam, Cambodia & Laos Bike Tour
Most Popular Family Bike Trips
· Loire Valley Bike Tour
· Pyrenees to Costa Brava Bike Tour
Top Bike Trips for Cyclists Seeking Challenging Routes
· Canadian Rockies Bike Tour
· Mallorca Bike Tour
· Sicily Bike Tour
· Hawaii Bike Tour
Best-Selling Bike Trips for Leisurely Riding
· Holland & Belgium Bike Tour
· Parma to Verona Bike Tour
· Puglia Bike Tour
· Stockholm to Copenhagen Bike Tour
For more information on Backroads Bike Trips, visit. http://www.backroads.com or call 1-800-462-2848.
All Backroads trips with biking now include complimentary custom bike jerseys designed for comfort and optimal functionality. Recognizing that there is still a practical need for human-powered transportation in the modern world, Backroads is also partnering with World Bicycle Relief to deliver the power of bikes to students, rural workers, healthcare providers, women, entrepreneurs and others in need throughout rural Africa. Our US bike shop donates our used bike components to the Bicycle Collective in Salt Lake City, Utah, each year. In the last two years, we've donated 2,000 tires, 800 group sets, 200 wheelsets and 155 saddles.
ABOUT BACKROADS
Backroads was founded in 1979 by Tom Hale and has been in business for more than 38 years. The company hosts thousands of guests, 75% of whom are repeat guests or referrals from past guests, in hundreds of locations across the globe. Backroads is a founding member of the Adventure Collection. For more information, please visit http://www.backroads.com or call 800-462-2848 daily, 6 a.m. to 6 p.m., Pacific time.