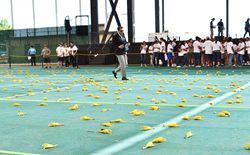 San Jacinto, CA (PRWEB) May 02, 2017
Under the watchful eye of Guinness Book of World Records Official Adjudicator, Michael Empric, and the City of San Jacinto Mayor, Scott Miller, and his wife Linda Miller, hundreds of lucky patrons gathered in the casino's events arena in an attempt to officially break the Guinness World Record for the Largest Rubber Chicken Toss.
Guests began checking into the World Record Attempt area at 2 PM where they received a numbered wristband and of course a rubber chicken. Once in the arena the guests were instructed to hold onto their rubber chicken until it was time to toss.
Over 60 volunteers from the local Hemet FFA showed up to the event to act as official stewards for the Guinness World Record attempt. Their job was to monitor the chickens being tossed within specified sections and ensure each chicken was tossed at the sound of an air-horn. If the chicken was not tossed, the guest would be deducted from the total record count.
Once every man, woman, and rubber chicken was in place, Michael Empric, official Guinness World Records Adjudicator, took the stage. Addressing the crowd of well over one thousand people, Empric briefly explained all of the rules including what to do and what not to do when tossing the rubber chickens.
Once the horn sounded, the chicken tossing was underway! It took mere seconds for the featherless flock of rubber birds to come crashing down on the target area.
According to Empric "Mass participation records are often the hardest to break." He continued "We had enough people out there to break the record, but we had a large number of disqualifications. That is people who left, and people who didn't throw their chickens. There was a total of 27 deductions. The number to beat was 999 chickens. I can now say that I have gone through the forms, reviewed the evidence, and today, at Soboba, we had 1,013 people toss, that's a new world record!"
After the event, twenty winners were drawn to win $450 in free slot play, and local Soboba guest John Brewster took the grand prize, a brand-new Nissan 370Z!
Soboba Casino, the Soboba Band of Luiseño Indians, and all of the participants and volunteers in attendance will forever be part of history and enter the archives of Guinness Book of World Records, making this the second record held by Soboba Casino.
Scott Sirois, General Manager of Soboba Casino stated "We are fortunate to have a community that is fun loving, and ready to band together to make these silly and exciting dreams a reality. Today we are Rubber Chicken World Record Holders, and we owe that to all of our guests, the wonderful Mayor Scott Miller and his wife Linda Miller, the Hemet FFA, and the dedicated Soboba staff who worked so diligently to make this record a reality."
Soboba Casino features approximately 2,000 of the newest, hottest slot machines, an expansive and modern non-smoking room, 20 classic gaming tables featuring all your favorite card games, and a large outdoor event arena which easily accommodates over 10,000 people. Need to recharge & refresh? Visit the cozy Soboba Cafe and Coffee Kiicha, or experience AC's Lounge with full cocktail bar and three giant HD flat screens including the "Sobobatron," the Inland Empire's biggest HD video wall.
Soboba Casino is proudly owned and operated by the Soboba Band of Luiseno Indians. Come join us for all the fun and then some! Soboba Casino. Where Everybody Goes to Play! For more information visit: soboba.com
Soboba Casino: 23333 Soboba Road, San Jacinto, CA 92583, (951) 665-1000