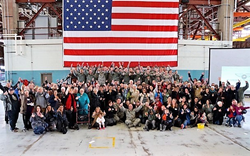 ALBUQUERQUE, NM (PRWEB) May 03, 2017
New Mexico's Southwest Women's Oncology kicked off this year's first annual Warriors for Warriors℠ luncheon on Saturday, April 29, in celebration of the courageous spirits of both their patients and the 58th Special Operations Wing (SOW) of Kirtland Air Force Base.
Saturday's occasion was hosted at the Kirtland Air Force Base and was attended by more than 350 patients, Airmen and their families from all over the state including media and members from partnering organizations.
The event was in of honor of patients and Airmen who demonstrated sacrifice and bravery through the struggle against gynecologic cancer and the service to their nation.
Warriors for Warriors was created by Southwest Women's Oncology and Cancer's Worst Enemy℠ with the support of Chief Master Sgt. Kevin Norman, Colonel Brenda Cartier and the 58th SOW to provide patients and airmen with a greater experience of support, connection to each other and to New Mexico's larger community.
"Outperforming the expectations of our patients has been a priority for us from the beginning," said Dr. Karen Finkelstein, lead physician at Southwest Women's Oncology. "We feel that recognizing the courage of our patients and the amazing airmen of the 58th Special Operations Wing builds a greater sense of community and makes both groups stronger. We want to take the time to listen to their stories and honor their valor."
A lunch was shared between Airmen and patients; Warrior to Warrior. The event concluded with a coining ceremony as a symbol of sharing and courage by 58th Commander Col. Brenda Cartier who first coined the Airmen, then the patients, families and honored guests with a commemorative Warriors for Warriors℠ "Coin of Courage". Each coin is engraved with the motto "With Courage We Triumph" to represent the relation of bravery the two groups demonstrate.
"Some of the people fighting this disease are from our military community as well, so this is an issue that is close to home for us," said Chief Master Sgt. Kevin Norman, 58th Aircraft Maintenance Squadron. "We recognized that in showcasing the courage of patients and their families, we would be showcasing the courage and resiliency that are also integral to military service."
Also during the event, Southwest Women's Oncology (formerly known as Southwest Gynecologic Oncology Associates, Inc.) announced its new name and logo to the attendees.
Members from Southwest Women's Oncology and Cancer's Worst Enemy℠ will continue the Warriors for Warriors℠ celebration as an annual tradition to show their support and honor the courage of gynecologic oncology patients and our military personnel.
To learn more about Southwest Women's Oncology and Cancer's Worst Enemy℠, visit swwomensoncology.com and cancersworstenemy.com.
About Southwest Women's Oncology
For more than three decades Southwest Women's Oncology (Formerly known as - Southwest Gynecologic Oncology Associates, Inc.) has been a leader in women's oncology care in New Mexico. The private medical practice provides personalized and concierge level care which includes the management of state-of-the-art cancer care in all aspects of gynecologic cancer including surgery, chemotherapy, radiation therapy, genetic counseling and minimally invasive procedures using the DaVinci robotic surgery system.
###