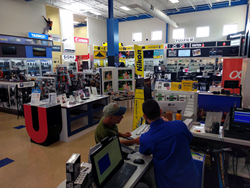 "Hensel provides the exact type of lighting products we want to supply our customers due to their exceptional quality and performance," said Unique Photo President, Alexander Sweetwood. "We are looking forward to many years of successful collaboration."
FAIRFIELD, N.J (PRWEB) May 04, 2017
Unique Photo, New Jersey's largest camera and video superstore, has been named the exclusive U.S. distributor of Hensel lighting products and equipment.
The new partnership with Hensel, headquartered in Germany, will add hundreds of new high-quality, professional lighting products to Unique Photo's vast inventory of in-store and online photography equipment and accessories. Unique Photo has established a dedicated sales team for Hensel products that will work alongside skilled sales representatives to support professional photographers and retailers across the United States.
Founded in 1947, Unique Photo is one of the largest privately owned distributors of photo equipment and accessories worldwide with over 20,000 items available in-store and online through its 50,000-square-foot, state-of-the-art facility and warehouse on Route 46. The flagship store provides multi-media classrooms for educational workshops, a digital learning lab, professional photo lab, rental department, meeting space, gourmet coffee bar and WiFi lounge.
Hensel was founded in 1963 and is based in Wuerzburg, Bavaria. The company develops, manufactures and distributes professional lighting systems and accessories for photographers and industrial users under the name "Hensel-Visit GmbH & Co. KG." Among its best known products are the Cito 500, the fastest compact flash unit in the world, and the Hensel Porty, the first professional battery flash generator introduced in 1995. Today, Hensel is the largest German manufacturer of photographic lighting and develops and produces all flash units and continuous light sources in Germany.
"Hensel provides the exact type of lighting products we want to supply our customers due to their exceptional quality and performance," said Unique Photo President, Alexander Sweetwood. "We are looking forward to many years of successful collaboration."
"With Unique Photo taking over Hensel's U.S. distribution, a renowned and very active company will be serving existing customers with optimum support," said Brian Roy, Hensel's vice president of sales. "More innovative products by Hensel are currently in development and will be introduced during 2017."
Unique Photo is a third generation, family-owned business that will be celebrating its 70th anniversary this year with exciting photography events, contests and excursions beginning this spring.
Unique Photo is also home to the Unique® Photo Expo, New Jersey's largest photography public trade show, coming on June 2-4 to the Unique Photo Superstore in Fairfield, NJ. Consumers can demo and purchase the latest products from leading manufacturers and take advantage of great 70th anniversary sales and over 40 free photography workshops.
ABOUT UNIQUE PHOTO
Unique Photo is New Jersey's largest camera and video superstore offering the latest in photographic products and imaging technology. Its 50,000-square-foot, state-of-the-art facility in Fairfield, N.J. features a spacious photography retail store, multi-media learning center, professional photo lab, meeting space, gourmet coffee bar and WiFi lounge. Unique Photo recently expanded to Hoboken with a second store providing a full line of services for its customers. Additionally, Unique Photo is the top destination for photography education in New Jersey, hosting more than 1,000 amateur and professional photographers monthly for its classes. "Unique University" instructors include world famous photographers, industry guest lecturers and Unique Photo's professional staff. For more information, visit http://www.uniquephoto.com or call 973-377-2007.