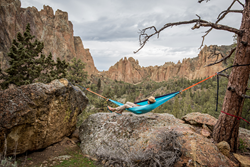 "Traditional hammocks can be cumbersome and limiting – either you hang them up or they're useless. We designed the M.C. Hammie to be the most versatile, lightweight hammock that is both huge in use and tiny in size for easy travel."
BEND, OR (PRWEB) May 04, 2017
Wildish, the maker of outdoorsy gear for friends, announces its latest innovation, the world's first all-in-one hammock, shelter, and blanket designed by outdoorsy enthusiasts for outdoorsy enthusiasts known as the M.C. Hammie. The product is currently live on Kickstarter, raising funds to bring the product to life starting at $84.
"The M.C. Hammie was born out of the idea that regardless of what outdoor experience you're into, there's a hammock lover in all of us," said Adam Allen, co-founder of Wildish. "Traditional hammocks can be cumbersome and limiting – either you hang them up or they're useless. We designed the M.C. Hammie to be the most versatile, lightweight hammock that is both huge in use and tiny in size for easy travel so it never gets left behind."
The M.C. Hammie can be spread out as a big blanket for multiple friends to pile onto, popped out to become a cozy tent shelter, or pulled into a comfortable hammock for two.
Key features for the new Wildish outdoorsy gear include:

10-foot by 7-foot sheet of silky-smooth, ultra-light, water-resistant and sand proof DWR Diamond Ripstop Nylon with a matching attached carry pouch
Built-in tree straps for hammock mode
Six aluminum "Get Down" ground stakes for tent shelter and blanket configurations
12-foot paracord line and sewn-in nylon loops for reinforced shelter stability
Eight aluminum carabineers for endless configurations
Two "Freedom Tree" extension straps for hammock setup between larger tree spans (exclusively offered in Kickstarter bundle)
"We've been working hard to fine-tune the ideal design for the M.C. Hammie and are excited to share it with the Kickstarter community first," said Rick Lee, co-founder of Wildish. "Whether you're heading to a picnic in the park, lounging by the river, or enjoying a little shade while at the beach, the M.C. Hammie is intended to be the ultimate outdoorsy companion that's always ready to go."
The current prototype of the M.C. Hammie weighs just 2.05 pounds and a total of 3.2 pounds with its Get Down stakes, paracord and Freedom Tree straps.
Visit Wildish's Kickstarter page to pre-order an M.C. Hammie, meet the designers and to learn more about the product that is changing the outdoorsy experience: https://goo.gl/LJun7A
About Wildish:
Wildish is a Bend-based startup focused on developing innovative outdoorsy gear for individuals who enjoy connecting with nature rather than conquering it. As passionate outdoor enthusiasts with a combined 15 years of engineering and product design experience, co-founders Adam Allen and Rick Lee joined forces in 2016 with the vision to not just create unique outdoor products, but ones that would encourage more people to get outside. For more information about Wildish, visit https://staywildish.com.
###