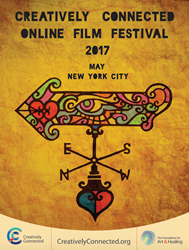 Storytelling for me is more than a business. I have seen just how powerful the sharing of stories about the human condition can be in the process of healing and connecting people. - Mike Paseornek, President of Production, Lionsgate Motion Picture Group
New York City, New York (PRWEB) May 04, 2017
Loneliness and social isolation represent a new national epidemic; studies show unprecedented numbers of Americans characterize themselves as lonely and the experience is now associated with an increased risk for depression, substance abuse and suicide. In addition, emerging research suggests a risk of early death equivalent to smoking 18 cigarettes a day.
In an effort to address these issues, the Foundation for Art & Healing (FAH) is launching the Creatively Connected Online Film Festival with loneliness and isolation as its inaugural theme. Viewers at the Festival's virtual theaters will find a diverse range of engaging and inspiring short films, using the power of this medium to explore the difficult topic.
The Festival launches May 9 in New York City at New York University. The launch begins with an afternoon conference — free and open to the public — featuring expert panel presentations. The conference brings nationally-recognized experts from organizations and institutions including AARP, the Veterans Administration, the City of New York, Newscorp, Prudential, and UCSF Medical Center to the conversation.
Panels will explore loneliness and isolation in several particularly vulnerable populations — older adults and caregivers, veterans and their families and employees in the modern workplace —and share current research findings.
An evening celebration follows that spotlights the award-winning films and filmmakers, along with arts and public policy luminaries. Steve Safyer, MD, President and Chief Executive Officer of Montefiore Medicine, and Mike Paseornek, President of Production, the Lionsgate Motion Picture Group anchor the evening as co-hosts.
FAH Founder and President Jeremy Nobel, MD, describing the initiative, said "More and more stakeholders are recognizing the need to better understand and tackle loneliness and isolation. Sharing stories through expressive, creative engagement offers an effective and enriching approach."
Mike Paseornek explains his commitment to this initiative: "Storytelling for me is more than a business. I have seen just how powerful the sharing of stories about the human condition can be in the process of healing and connecting people."
About the Foundation:
The mission of the Foundation for Art & Healing is to use its position as a "bridge" to create and expand general awareness about art and healing, to bring forward through research and related explorations critical knowledge about art and healing and the relationship between them, and to help make this knowledge available at the individual and community level. Click to learn more about Foundation's signature initiative, the UnLoneliness Project, and the Creatively Connected Online Film Festival.
*Julianne Holt-Lunstad, Timothy B. Smith, Mark Baker, Tyler Harris, and David Stephenson, "Loneliness and Social Isolation as Risk Factors for Mortality: A Meta-Analytic Review," Perspectives on Psychological Science 2015, Vol. 10(2) 227–237.