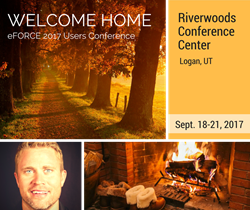 The overall feeling and feedback we got from customers last year was a strong sense of unity and collaboration. We want to recapture that feeling and build upon it.
Logan, UT (PRWEB) May 03, 2017
eFORCE Software will be hosting its 2017 Users Conference, September 18-21 in Logan, Utah, home to the company's headquarters.
"Last year's conference was a big success, and we're hoping to make this year even better," said Brandon Taylor, Marketing Manager at eFORCE. "Attendees will be introduced to the newest features in our software, receive expert training, experience inspirational speakers and participate in valuable networking activities."
The theme for this year's conference is Welcome Home.
"The overall feeling and feedback we got from customers last year was a strong sense of unity and collaboration," said Cory Bowers, eFORCE CEO. "In fact, we even had people comment on how much they felt like part of a family, or a tight-knit group of friends. We want to recapture that feeling and build upon it. Being an eFORCE customer really is like being part of a family that helps each other succeed."
One customer said the following, after attending the 2016 Users Conference, "The conference was a great way to meet other users and share ideas. It seems like the team went all out to make sure that it was enjoyable as well as a great learning arena. I would definitely recommend it to all users, new and old."
Attendees will have two and a half days of training and instruction, including large group meetings, breakout sessions, roundtables, question and answer sessions and hands-on work. They will learn how to optimize the use of their eFORCE solutions and how to implement valuable changes to their daily processes. The results will help simplify their routine workloads and increase the efficiency of their agencies.
Lincoln County, Wyoming Sheriff's Office has been an eFORCE customer since 2009. "We switched over to eFORCE from our previous RMS system due to the need for our officers to be mobile," said Maryanne Christensen, Records Administrator. "The multiple benefits of our agency switching are program administration, mobility, UCR validation, user-friendly, ease of training new users, and interoperability between systems."
This year's conference will address some of those specific benefits. Courses will include instruction on new features to the software, computer-aided dispatch (CAD), records management software (RMS), jail management software (JMS), the iOS eFORCE mobile app, ad hoc reporting, how to find funding for new or updated software, e-Citations and more.
Headlining the conference will be keynote speaker Tim Ballard, Founder and CEO of Operation Underground Railroad. Ballard has spent over a decade working as a Special Agent for the Department of Homeland Security where he was assigned to the Internet Crimes Against Children Task Force and deployed as an undercover operative for the U.S. Child Sex Tourism Jump Team. He has worked undercover in the United States and in multiple foreign countries to infiltrate child trafficking organizations, and has successfully dismantled dozens of these organizations and rescued countless children from sex slavery.
In reference to the mission he has undertaken, Ballard said, "It's funny, because we all read history and we think, 'Oh, I would … have risen up, I would have fought, I would have been an abolitionist,' And I tell them, 'No, you wouldn't have. If you would have, you'd be doing that right now. You know trafficking exists, you've heard of it, but you don't want to look."
Ballard has also been featured on many national news outlets to discuss his efforts to combat child trafficking. He has appeared on Fox News Sunday with Chris Wallace, The Meredith Vieira Show, CBS Nightly News, ABC Nightline, CNN Headline News, MSNBC, The Glenn Beck Program, as well as many local news shows.
"We're excited for Tim Ballard to be our keynote speaker this year," said Bowers. "He's made such a profound impact on so many lives. It truly is a privilege for us to have him share his experience and passion with the eFORCE community."
About eFORCE Software
eFORCE Software is a tenured public safety software provider that offers flexible, state-of-the art, web-based solutions in a hosted or locally installed environment. Hundreds of customers enjoy the benefits of eFORCE's proven, leading-edge technologies, which range from small hosted campus police departments to an entire country. For additional information, visit https://www.eforcesoftware.com.