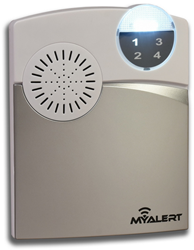 Eden Prairie, Minnesota (PRWEB) May 03, 2017
Harris Communications, Inc. introduces the new MyAlert™ signaling system for the deaf and hard of hearing. Designed for affordability and reliability, MyAlert from Silent Call is one of the most economical alerting systems available.
MyAlert alerts the deaf and hard of hearing to important household sounds including the telephone or video phone, smart phone, doorbell, baby cries, kitchen timers, and opened doors and windows. It alerts with flashing lights, vibration and loud sound. The system uses unique Multi-Code technology, which means no false flashing from a neighbor's system. Featuring 24/7 safe system supervision and class-leading range, MyAlert notifies users if any part of the system is not working.
MyAlert includes a Digital Radio Frequency (DR-F) remote receiver that can be paired with up to four battery-powered transmitters (sold separately) and an optional bed shaker. In addition, a body worn wireless multi-function receiver is available that allows wearers to work in the yard or garage without worrying about missing an important call, visitor or other alert. Each component is sold separately to minimize cost and allow users to customize their system. The remote receiver is battery powered for portability; an optional AC power supply is available. Transmitters are available for doorbell, landline phone, smart phone, baby cry, kitchen timer, and opened doors/windows.
Find Out More
To learn more about MyAlert, visit http://www.harriscomm.com, or call 952-388-2152 (video phone) or 1-877-539-7445 (voice). Harris Communications has ASL friendly staff who can help you select the right alerting products for your needs.
About Harris Communications, Inc.
Based in Eden Prairie, Minnesota, Harris Communications, Inc. is a leading supplier of hearing loss solutions for people with all levels of hearing loss. Since its founding in 1982 by Dr. Robert Harris, himself a member of the Deaf community, Harris Communications has helped millions of deaf and hard of hearing customers enjoy their lives to the fullest by providing expert advice and a wide range of more than 2,000 assistive devices and educational resources. The company's product line includes alerting devices, phone and TV amplifiers, personal amplification systems, tinnitus maskers, books and media and much more. Harris Communications also supplies ADA compliance products and hearing protection equipment.