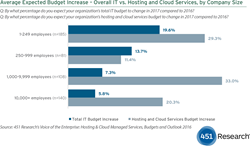 New York, NY (PRWEB) May 03, 2017
451 Research's latest Voice of the Enterprise: Hosting and Cloud Managed Services, Budgets and Outlook study finds that enterprises expect growth in their hosting and cloud services spending to outpace growth in overall IT spending by 25.8% to 12%. This trend applies across almost every vertical market and company size category, but is most pronounced among large businesses (1,000-9,999 employees), which expect an average of 33.3% growth in hosting and cloud services spending.
Among respondents, 88% expect to increase their hosting and cloud services budgets in 2017 vs. 2016, compared to 70% that expect to increase total IT budgets year-over-year. Just 9.5% expect a decrease in hosting and cloud services spending, compared to 22.3% that expect a decrease in total IT spending.
"We see the pace of investment in hosting and cloud services exceeding investment in IT overall, meaning hosting and cloud services are becoming a focus of IT investment, via both new projects and the migration of existing workloads," says Liam Eagle, Research Manager at 451 Research and author of the Voice of the Enterprise: Hosting and Cloud Managed Services study. "Even some businesses that are reducing IT spending overall are increasing hosting and cloud spending, meaning service providers should not overlook companies looking to reduce IT costs as prospects."
The study finds a variety of drivers are impacting increased spending on hosting and cloud services. They include strong representation for the migration of workloads from on-premises environments to the cloud; adding new resource capacity due to business growth; new IT initiatives; and businesses buying additional services they previously did not have. These drivers vary significantly by company size, with small businesses (up to 249 employees) strongly emphasizing new capacity due to growth, and medium (250 – 999 employees) and very large businesses (over 10,000 employees) primarily focused on migrating on-premises workloads to the cloud.
"Significant adoption profile differences among different company sizes in terms of adoption rates and drivers reinforce the idea that company size is not just a category difference but indicative of markets with totally different hosting and cloud services characteristics," says Eagle. "This gives providers a compelling business case for specialization and is one of the reasons the hosting and cloud services market is served by such a wide variety of vendors and vendor types."
451 Research finds that public cloud and SaaS providers such as Microsoft Azure and Amazon Web Services are being adopted by the largest portion of respondents. However approximately 50% of respondents indicate they are using a vendor outside of the top 10. Azure and AWS lead respondents' budget allocation by a significant margin, with Azure (24.8%) leading AWS (20.2%) by several percentage points. Respondents on average intend to increase spending for both of these vendors. And increased spending is also planned with several other vendors, including public cloud and managed hosting vendors in aggregate. However customers' plans to increase spending for any individual vendor trail hosting and cloud spending increases overall, suggesting that over time enterprises will spread their growing hosting and cloud services budget over a larger number of providers.
The Voice of the Enterprise: Hosting and Cloud Managed Services – Budgets and Outlook study focuses on enterprise end-user adoption of hosting and cloud services, including infrastructure services, SaaS and hosted application services, managed services, security services and professional services for cloud enablement. Based on research conducted in January and February 2017 with approximately 1,000 IT professionals worldwide, the quarterly study combines 451 Research's analysis with survey responses and in-depth interviews from a panel of more than 60,000 senior IT buyers and enterprise technology executives.
About 451 Research
451 Research is a preeminent information technology research and advisory company. With a core focus on technology innovation and market disruption, we provide essential insight for leaders of the digital economy. More than 100 analysts and consultants deliver that insight via syndicated research, advisory services and live events to more than 1,000 client organizations in North America, Europe and around the world. Founded in 2000 and headquartered in New York, 451 Research is a division of The 451 Group. Learn more.
For media inquiries please contact:
Kaitlin Buckley
Marketing Coordinator
kaitlin.buckley(at)451research.com
T: 617.598.7212