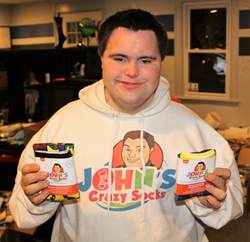 John Cronin said, "We're on a mission to spread happiness through socks and now we can send some happiness overseas with our socks. I'm so excited."
Huntington, NY (PRWEB) May 03, 2017
John's Crazy Socks, an online sock company co-founded by John Cronin, a 21-year-old man with Down syndrome, now ships overseas. As of May 1, 2017, John's Crazy Socks ships to Australia, New Zealand, Ireland and the United Kingdom. The Company has always shipped to Canada and all United States and territories. The decision to ship overseas comes after receiving many requests from potential customers requesting international deliveries and after the company carefully tested its ability to ship overseas.
John Cronin said, "We're on a mission to spread happiness through socks and now we can send some happiness overseas with our socks. I'm so excited."
Inspired by its co-founder, John's Crazy Socks stands out not only for its great socks and fast service, but for the special way it does business. "This business is very personal for me," said John. Every order receives a thank you note from John and some candy. And part of the Company's mission is to give back. John's Crazy Socks donates five percent of its earnings to the Special Olympics and raises thousands of dollars for its charity partners through special socks like its Down Syndrome Awareness Socks and Autism Awareness Socks. Each month, it publishes a Giving Back Report.
Now customers in Australia, New Zealand, Ireland and the United Kingdom can shop at John's Crazy Socks to find socks they will love. They will find the broadest selection of socks including unique charity socks as well as hundreds of the best socks from the best designers in the world.
Mark X. Cronin, co-founder with his son John, said, "We heard from many people on Facebook, Instagram and in emails asking us to ship internationally. Some had already received our socks as gifts from friends and relatives in the States and they wanted to order more."
The company tested its ability to ship overseas by sending packages to select customers to make sure there were no problems with the delivery or customs. "We were happy to hear that the packages were received in a timely manner and the first international customers loved their socks," said Mark.
Bradley Burns of Cardiff, Australia, received his package and shared his joy on Facebook, "Hey John!! Thank you so much for my socks and for letting me be your first order to Australia! Absolutely adore the socks and can't wait to order more!"
Katy Hudson from West Yorkshire was one of the first to receive a package of John's Crazy Socks in England. She shared her happiness with the socks on Facebook. "Feeling very honoured to be the first U.K. customer!! The rainbow piano socks are perfect for me! Thank you"
John says, "I kept hearing from my Irish cousins that we had to ship to Ireland." John explained that his grandmother was born in County Clare and moved to New York in the mid-1950's. His mother lived in Dublin during her early teens and his father spent a year attending Trinity College, Dublin. "I love everything about Ireland and I am so happy people can buy our socks there."
John's Crazy Socks ships throughout the United States and now ships to Canada, Australia, New Zealand, Ireland and the United Kingdom. Mark X. Cronin explained, "We are growing rapidly and want to reach more people, but we want to make sure we do it right. Our service is very important to us and we are carefully testing the shipping, country by country, to make sure we get it right."
You can learn more about John and John's Crazy Socks at our website and our Facebook page. You can also see videos with John at our YouTube channel.