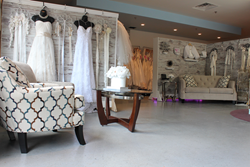 Atlanta, Georgia (PRWEB) May 03, 2017
Brides Against Breast Cancer® ("BABC") has reopened as a social enterprise company with new management in April 2017. BABC sells donated designer wedding dresses nationwide through its online store, the "Tour of Gowns" wedding dress shows, and its flagship Atlanta retail store. BABC shares its profits and promotional platform with its breast cancer charity partners. Since 1997 the BABC organization has helped more than 50,000 women purchase affordable wedding dresses and raised millions of dollars for breast cancer causes.
While the average new designer wedding dress costs $1,700, the average price for a BABC pre-owned or sample dress is considerably less at $600. Most dresses are $99 to $999 with the couture dresses selling up to $1,999, where the original retail price sometimes exceeds $10,000. Dresses are sold off-the-rack from BABC's inventory, are certified, and have an easy return policy. Dresses are donated from individuals and bridal salons who want to support breast cancer charities while also receiving a tax write-off.
"In order to serve brides nationwide yet be financially stable to operate and help breast cancer causes, we re-launched with an online web store with live video bridal consultants and producing wedding dress shows only in large cities. We also have a lovely retail store in our hometown of Atlanta" said BABC's CEO Drew Edwards.
"Drew has truly reimagined and reorganized a meaningful business enterprise to be financially stable, and it's now able to help support our mission, said Sheryl Cherico, President of the Georgia Breast Cancer Coalition Fund charity. "We're proud to have a partnership with Brides Against Breast Cancer."
"As an organization that was founded by women and sustained by them and the family members who love them, LBBC is proud to be a BABC partner. We're excited to join with BABC to promote greater awareness of our breast cancer education and support programs," says Jean Sachs, CEO of Living Beyond Breast Cancer.
Edwards became endeared with Brides Against Breast Cancer after his wife bought her wedding dress from them. After BABC's bankruptcy in 2015, he was inspired in 2016 to continue its mission by re-launching it as a social enterprise company modeled in spirit after the successes of Tom's Shoes(TM), Life is Good(TM), and BeautyCounter.com(TM).
BABC opened its retail and online store in April 2017 and is kicking off its 2017 "Tour of Gowns" Wedding Dress Shows on July 16th at the Atlanta Intercontinental Hotel (in Atlanta's Buckhead area) followed by more shows in Orlando, FL and Atlanta again. For more information on next cities and organization, visit https://www.bridesagainstbreastcancer.org.
###
About Brides Against Breast Cancer LLC
BABC is a social enterprise company that sells off-the-rack designer wedding dresses that are donated samples or pre-owned. We share our profits and promotional platform to support breast cancer charities. Our nationwide charity partner is Living Beyond Breast Cancer (LBBC.org) and our home state charity partner is the Georgia Breast Cancer Coalition Fund (GABCC.org). BABC is owned by Trustpoint Advisors, a boutique investment banking and strategic advisory firm. BABC's headquarters, web store and retail store are located at 3308 Laventure Drive, Suite B170, Atlanta, GA, 30341. For more information, visit bridesagainstbreastcancer.org