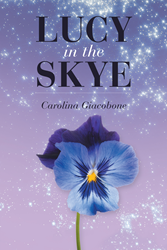 DUBLIN (PRWEB) May 22, 2017
As we make strides to becoming a more accepting society, mental health stigma continues to be a growing concern worldwide. With a passion for diminishing misconceptions about mental health, Dr. Carolina Giacobone highlights the real and raw emotions of mental illness in her new novel.
"Lucy in the Skye" is an honest story, emphasizing the candid and complex story about a young woman, Lucy, who is battling her demons and struggling with mental health issues. The novel will take readers alongside Lucy on her journey to discovering womanhood, accepting resilience, and understanding her own identity.
Although the novel is fictional, it is based on the author's experience as a psychiatrist and the countless stories she has lived and heard. Dr. Giacobone said her goal with the novel is to convey a positive and mind-opening message to all readers as she feels she has a responsibility to spread mental health awareness.
Readers will be uplifted and moved as "Lucy in the Skye" gives voice to the stories of suffering, fear, prejudice, and confusion that are silenced by stigma and rejection.
"Lucy in the Skye"
By: Carolina Giacobone
ISBN: 978-1-5246-6381-0 (sc); 978-1-5246-6382-7 (hc); 978-1-5246-6380-3 (e)
Available on AuthorHouse, Amazon and Barnes & Noble
About the author
Dr. Carolina Giacobone is a medical doctor who specializes in general adult psychiatry. Born in Argentina in 1988, she moved to Ireland in 2015, after finishing her specialization with the highest honors. Dr. Giacobone has been working as a psychiatrist and a lecturer in psychiatry since 2012. She has published several poems, articles, and short stories in magazines, but "Lucy in the Skye" is her first published novel. She lives with her husband, cat, and dog, and she is as passionate about mental health as she is about writing.
###
Review Copies & Interview Requests:
LAVIDGE – Phoenix
Courtney Coombes
480-998-2600 x 612
ccoombes(at)lavidge(dot)com
General Inquiries:
LAVIDGE – Phoenix
Maggie Driver
480-998-2600 x 584
mdriver(at)lavidge(dot)com