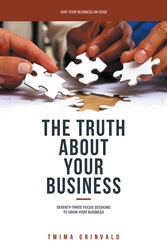 NEW YORK, NY (PRWEB) May 22, 2017
Tmima Grinvald always had the desire to make a positive mark on the world. Continuing to follow her aspiration, Grinvald wrote "The Truth About Your Business" to help leaders grow prosperous and successful businesses.
Grinvald's book exposes business leaders to different aspects of running an effective business. "The Truth About Your Business" includes 73 focus sessions, which takes readers through an inquiry to evaluate and adjust their company's current performance. The book focuses on topics such as implementing and evaluating strategy, reinventing processes, and handling employees' challenges.
Grinvald said it is imperative for leaders to grow themselves if they want to grow their business. Upon completion of "The Truth About Your Business," leaders will understand how they can be the best in what they do.
"As a certified coach, I'm privy to the inside thinking of many business leaders, and I've seen what works well and what requires adjustments through my coaching practice," said Grinvald. "I transform teams and business leaders with powerful communication honed by over 30 years of experience as an instructor, speaker, manager, certified coach, and now as an author."
"The Truth About Your Business"
By: Tmima Grinvald
ISBN: 978-1-5320-1302-7 (sc); 978-1-5320-1303-4 (e)
Available on iUniverse, Amazon and Barnes & Noble
About the author
Tmima Grinvald earned an MBA from New York Institute of Technology. She is a certified professional coach and is the principal of Round Well Coaching and Leadership Development, which helps business owners achieve success through employee management, team relationships, career development, client retention, marketing, sales, and more. She has significant hands-on management experience in corporate information technology, is a former military officer in the Israel Defense Forces, and holds a third-degree black belt in aikido. To learn more about her expertise, visit http://www.theroundwell.com/about-tmima/.
###
Review Copies & Interview Requests:
LAVIDGE – Phoenix
Courtney Coombes
480-998-2600 x 612
ccoombes(at)lavidge(dot)com
General Inquiries:
LAVIDGE – Phoenix
Maggie Driver
480-998-2600 x 584
mdriver(at)lavidge(dot)com