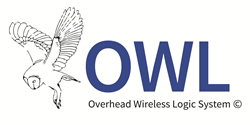 ORLANDO, FLA. (PRWEB) May 09, 2017
Technology Assurance Labs, announced today that it has been granted a patent from the US Patent and Trademark Office for a "Pay as You Go" virtual metering system. The official patent is titled "Non-Metered Wireless System and Method to Render Usage Based Invoices for Storage Tank Consumables – US Patent No 9646330."
Ken Stauffer, Co-Founder of Technology Assurance Labs, explains "this is a great addition to OWL's growing portfolio of reliable tank monitoring solutions. OWL© radios and software not only monitor tank usage, but also offer a 'Pay As You Go' service. It allows dealers to invoice customers monthly based on real usage, thereby increasing the dealers' ROI and winning competitive bids. We have been offering 'Pay as You Go' for about 4 years and this patent strengthens our position in the market as well as affirms our commitment to innovation."
Garry Lovelace, President of Lovelace Gas explains, "When I offer 'Pay as You Go', my customers enjoy not having to pay for a full tank of gas. OWL© provides a more even cash flow for both my customers and me, allowing me to maintain monthly contact with my customers. It's a great tool to win new customers as well as retain existing customers!"
The OWL© radio regularly transmits tank level data to the dealer's OWL© software portal which can be accessed via any device (laptop, smartphone, or tablet) with a web browser or via an application programming interface (API) for back office systems. The OWL© radio is a low cost, highly reliable solution to monitor residential tanks and meters; it comes with an industry best, 10-year battery warranty.
About OWL©
Overhead Wireless Logic System, OWL©, is a wireless sensor, IoT network capable of monitoring many different sensors over a given area using licensed spectrum and/or cellular telemetry. The first OWL© products developed are targeted to the propane and natural gas industry, but other sensors in development include temperature, liquid pressure, soil moisture, etc. http://www.owlsite.net
About Technology Assurance Labs:
Technology Assurance Labs, formed in March 2003, is a privately owned LLC headquartered in, Orlando, Fla. It is an independent laboratory, serving equipment vendors, venture capital groups, and service providers with services such as technology planning and management, network and system design, and technology testing. It has also developed RFID products for the rail industry and M2M wireless sensor products for the propane and gas metering industry. For more information please visit http://www.talabs.com.
Media Contacts:
Technology Assurance Labs Contact:
Ken Stauffer, Co-Founder,
732-688-0516