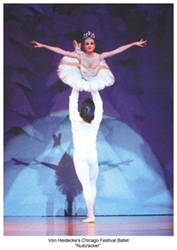 Naperville, IL (PRWEB) May 04, 2017
Students and dancers are invited to audition for the Von Heidecke Dance Center which has been featured in TV, News, and Magazines as "One of the best schools in Chicago". Selected dancers from the school will be invited to participate in the professional production of the Chicago Festival Ballet's production of the Nutcracker. Auditions and placement evaluations for the Summer Intensive will be held on Saturday, May 20th.
Ninety of Chicagoland's best students will be featured in a sumptuous production with choreography by internationally renowned choreographer, Kenneth von Heidecke, lavish costumes and scenery, 18 professional dancers, acrobats and international stars. The tour will begin at the historic Rialto Square Theatre in Joliet followed by the Ritz Theater in Tiffin, OH. The next 4 performances will be at the MAC, Glen Ellyn with Maestro Kirk Muspratt leading the New Philharmonic Orchestra. The last performance will be held at the Bloomington Center for the Performing Arts.
The same auditions will be used for the International Summer Intensive which features an array of professional faculty culminating in a final performance on August 6, 2017. New students & their parents attending the audition will receive free tickets for our May 21st Spring Performance Repertoire and a delightful Alice in Wonderland!
May 20th Auditions as follows:

12:00 pm - 12:30 pm: dancers ages 3-6
12:30 pm – 1:00 pm: dancers ages 7-10
1:00 pm - 2:00 pm: dancers age 11 - professional level
TUITION DISCOUNTS ARE AVAILABLE FOR THE SUMMER TERM:
NEW STUDENTS: ½ PRICE SUMMER TUITION!
CURRENT STUDENTS: 2 FOR 1 TUITION IF A FRIEND OR FAMILY MEMBER ENROLLS IN THE SAME LEVEL, OR 50% OFF EACH TUITION IF ENROLLING IN DIFFERENT LEVELS!
Dancers must arrive 30 minutes prior to their age group's start time to register. Audition forms and information on the school are available on our websites at:
http://www.chicagofestivalballet.com and http://www.vhdancecenter.com
Von Heidecke's Dance Center, 1239 S Naper Blvd, Naperville, (630) 527-1052