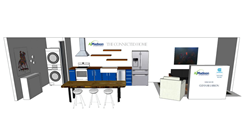 New York, New York (PRWEB) May 04, 2017
Appliance leader AJ Madison and Brooklyn-based interior designer Gunnar Larson will present The Connected Home at BKLYN DESIGNS from May 5-7 in Greenpoint, incorporating the latest in energy efficiency expertise from Con Edison and "smart home" elegance and design featuring appliances at the forefront of connectivity and technology. The Connected Home will be a 30'x10' space that will welcome guests and promote conversation and relaxation with an open floor plan and contemporary design elements, functioning as a usable living and kitchen space with energy efficient, Wi-Fi-enabled technology, and Energy Star-certified appliances from Frigidaire, GE, LG, Bosch, and Samsung. A Con Edison energy-efficiency representative at the booth will highlight featured smart home technologies, educating guests on energy-saving features and Con Edison's rebates and rewards programs… and with summer coming, it's the perfect time to check out ways to manage energy usage and lower bills.
A panel discussion, titled The Connected Home: Ways to Live Smarter and Save Money, will be held on Friday, May 5 at 2pm. Gunnar Larson along with panelists from AJ Madison, Con Edison, One Button will discuss the latest design thinking around technology in the home with an emphasis on energy efficiency. Panel will be followed by a Grumpy's coffee break with consumer design-connecter service, Homepolish on Friday at 3pm, and an artisanal brunch from Chopped Junior star Eitan Bernath on Sunday at 11:30 am.
WHO:
Local Design Star Gunnar Larson
Amy Chernoff, Joseph Rudler | AJ Madison
Toni Yuille Williams, Zachary Sussman | Con Edison
WHEN:
Friday, May 5: 10am – 1pm (Press & Trade Preview); 1 – 7pm (open to public)
Saturday, May 6: 11am – 7pm (open to public)
Sunday, May 7: 11am – 6pm (open to public)
WHERE:
Brooklyn Expo Center (72 Noble Street, Brooklyn)
Greenpoint Ave (G) / India Street (East River Ferry)
ABOUT AJ MADISON
Founded in 2001, AJ Madison is recognized as the industry's foremost appliance authority, offering an unrivaled selection of top rated appliances for kitchen projects of any size. AJ Madison's appliance showroom roster features over 60 of the very best brands on the market – including Bosch, Dacor, Electrolux, Gaggenau, GE, Liebherr, LG, Miele, Samsung, Sub Zero, Thermador, Viking and Wolf.Located at 3605 13th Avenue Brooklyn, NY 11218, AJ Madison's state of the art 16,000 square foot design showroom complements its comprehensive e-commerce site (http://www.AJmadison.com). With both offering guaranteed, unbeatable prices for designers, builders and consumers. AJ Madison's highly trained staff delivers in-depth understanding, expertise and experience catering to all home appliance needs and is dedicated to the concept of "service after the sale" - standing by customers from the day of purchase throughout the life of the product.
For more information visit https://www.ajmadison.com/showroom.
ABOUT GUNNAR LARSON
Gunnar Larson is a Brooklyn based interior designer that works in residential and boutique commercial spaces. Gunnar's style is rooted in discovery and storytelling – his goal is always to find the perspective that becomes a client's paradigm shift of how they view their home/space. Gunnar's aesthetic is known for its clean lines and fresh white foundations with layers of texture and color. http://www.gunnarlarson.com
ABOUT BKLYN DESIGNS
BKLYN DESIGNS is Brooklyn's premier design event showcasing a cross section of design, architecture and art. Founded by the Brooklyn Chamber of Commerce in 2003, it was one of the first design fairs to shine a spotlight on the creative economy in Brooklyn and serves as an incubator for emerging designers as well as a platform for established brands producing a range of creative products across furniture, lighting, tableware, art, textiles and jewelry. https://www.BKLYNDESIGNS.com