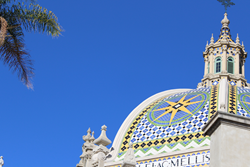 The great strength of Balboa Park lies in the sheer number of cultural organizations within it.
San Diego, CA (PRWEB) May 03, 2017
Balboa Park has been selected as a semi-finalist for the California Cultural Districts' pilot program.
The California Cultural Districts' program, administered by the California Arts Council, aims to assist Californians in leveraging the state's assets in the areas of culture, creativity, and diversity. Selected Districts are intended to be a well-rounded group of communities that are diverse in make-up, geography, and purpose.
The California Arts Council met last week in Sacramento to assess all submissions to the pilot program.
"It was a very competitive pool of applicants, and the panel's evaluation of Balboa Park Cultural District resulted in semi-finalist status being granted to the district," wrote Caitlin Fitzwater, the Director of Public Affairs and Interim Program Coordinator of the California Cultural Districts program.
Balboa Park Cultural Partnership is the lead agency of the application in a team that includes Balboa Park Conservancy, the City of San Diego Park and Recreation Department, and the San Diego Tourism Authority.
"The great strength of Balboa Park lies in the sheer number of cultural organizations within it—museums, performing arts venues, youth-focused organizations, and working artists," said Peter Comiskey, Executive Director of Balboa Park Cultural Partnership. "All these assets are in close proximity and provide a variety of interactive opportunities for visitors."
"Balboa Park is a perfect match for this pilot project," said Tomas Herrera-Mishler, Executive Director and CEO of the Balboa Park Conservancy. "This unique landscape of arts and culture in the heart of an urban park is an incredible resource for our community and an asset to our economy."
The first phase of the application involved an overall historic, cultural, and developmental assessment of each district. The next step is a site visit conducted by California Arts Council staff. Balboa Park Cultural District's site visit date is May 10.
The applicants believe that the designation will assist Balboa Park in branding its assets, creating further recognition, and firmly putting it on the cultural map of California.
"San Diego Tourism has long been a strong collaborator with Balboa Park and plans to strengthen this partnership even further," said Joseph Terzi, President & CEO of the San Diego Tourism Authority. "The California Cultural District designation will solidify Balboa Park as one of America's top-tier cultural players, increasingly strengthening the Park's clout and credibility."
San Diego Park & Recreation Department manages and maintains the Park and collaborates with the Balboa Park Conservancy to present free community events such as December Nights. Herman D. Parker, Director of San Diego Park & Recreation Department, said, "Balboa Park is where our region comes to enjoy music, theater, art, history, science, and technology. Being formally recognized would make clear the significance of all that has been accomplished in the Park."
"Through a century at the heart of San Diego, Balboa Park has become a focal point for our region's arts and culture programs, providing dynamic opportunities to not only appreciate art, but foster the creative spirit and passion for the arts in all of our diverse communities," said San Diego Councilmember Chris Ward, who represents Balboa Park. "To be selected as a semi-finalist for one of the first California Cultural Districts is an honor in itself, and we hope to build on this to demonstrate the special nature of our Park and its place among California's most precious cultural assets."
A list of California Cultural District semi-finalists can be viewed here: https://www.caculturaldistricts.org/semifinalists
ABOUT BALBOA PARK CULTURAL PARTNERSHIP
Balboa Park Cultural Partnership is a nonprofit organization through which 30 arts, science, and cultural institutions in Balboa Park collaborate to achieve shared goals. By helping these groups achieve greater organizational efficiency, innovation and excellence, it seeks to contribute to the vitality and sustainability of Balboa Park. For more information visit http://www.bpcp.org.
ABOUT BALBOA PARK CONSERVANCY
Balboa Park Conservancy is a public benefit, non‐profit 501(c)3 organization dedicated to preserving and enhancing San Diego's Balboa Park for future generations. Formed in 2010, the Conservancy is responsible for raising funds, developing public‐private partnerships, and collaborating with Balboa Park stakeholders to implement capital projects and address deferred maintenance needs in the Park. The Conservancy, through partnership with the City, facilitates the identification and prioritization of projects for the Park and brings resources together to ensure implementation. For more information visit balboaparkconservancy.org.
# # #