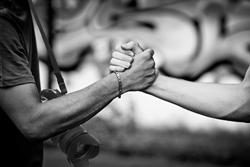 "We meet so many good people and it's our favorite way to gain exposure," says PhotoSesh Co-Founder Christopher Seshadri
Hoboken, New Jersey (PRWEB) May 03, 2017
Although still in a startup growth stage, PhotoSesh finds ways to use some time and resources to give back. Not only is the company a part of the Pledge 1% club donating time to their communities, PhotoSesh has also found a way to contribute their tech services through "philanthropic photography." PhotoSesh, the startup known by many as the Uber or Airbnb of Photographers, has a stellar lineup of charity event coverage coming up in 2017.
"Giving back to the community will always be a top priority of ours," says PhotoSesh President Shari Seshadri, "Instead of pumping dollars solely into corporate ad agencies, we instead prioritize paying for the photography coverage at charitable events."
Founders Shari and Chris had their own pain points in the process of hiring photographers when they themselves were in need of photographic services years ago. It was the need of photographers for their "CarePacks4Homeless" initiative, that planted the seed for the PhotoSesh concept. Three years later, the PhotoSesh App has become America's leading On-Demand photography platform and now claims the title of the easiest, fastest, and most efficient way to book a photographer in the United States..
PhotoSesh has no plans to slow down their involvement with charity and volunteering. "We meet so many good people and it's our favorite way to gain exposure," says PhotoSesh Co-Founder Christopher Seshadri. "It's really wonderful because we can help out some of these charitable missions that are doing something meaningful within the communities. Since these events are usually quite family friendly, we get to be with our children and invite loved ones to come join in on the fun. Our weekends are packed with charity fundraisers and it's great for our kids to be around some really good people in our community."
PhotoSesh tries to help out anywhere on the map as best as they can. Their brand gets introduced to a lot of people through these events and are able to contribute to the communities along the way. "It's something we will never stop doing as a company, as a community, and as a family. We believe good people like to work with companies that do good things. We want to work with photographers that do good and we want our customers to enjoy being a part of this harmonious PhotoSesh community, which is what our company stands for."
Here are some charity events, their registration links, and more information for anyone that wants to participate or contribute:
DATE: Saturday May 13, 2017 (2PM - 7PM)
EVENT: 9th Annual NYC Crawfish Boil
Crawfish for Cancer - Crawfish for Cancer (CFC Inc.) is dedicated to fundraising for multiple myeloma cancer research. By hosting events that cater to young professionals we are able to provide much needed funds in the fight against this currently incurable disease. Click on the link to get your tickets!
DATE: Sunday May 21, 2017 (12PM - 4PM)
EVENT: 3rd Annual RE/MAX Animal Rescue Event
Help Me Find My Fur-ever Home! And if you can't attend but would like to donate, please click on the event link. All donations will be sent towards the Secaucus Animal Shelter to help these amazing animals.
Want to see last year's pictures? CLICK HERE
DATE: Sunday June 4, 2017 (9AM - 2PM)
EVENT: Go the Distance 4 Autism- The Largest Charity Cycling Event in North New Jersey Click on the link to register and ride. The event is for all levels. Choose from 3, 10, 25, and 62.5 miles. If you don't ride, you can still participate in the Family Fun Festival. Click on the event link for more details.
Want to see last year's pictures? CLICK HERE
DATE: Friday June 9, 2017 (7PM - 11PM)
EVENT: Mended Little Hearts Philadelphia's Taste the Heart of Philly 3rd Annual Gala
This is an annual event that directs donations to support programs for The Cardiac Unit at The Children's Hospital of Philadelphia. Click on the link for more information in attending or donating.
Want to see last year's pictures? CLICK HERE
Notable Past Events of 2017
March 18, 2017 - Hayden's Heart - Hayden's 5th Annual 5K- Hayden's Heart is a non-profit foundation to honor Hayden Jeter Dorsett and raise awareness to CHD (Congenital Heart Defect). This year's run directed proceeds to benefit Aylin Conil and Family of North Bergen, NJ. If you're interested in helping the organization or contributing in some way, please visit the event's link.
January 10, 2017 - MDA NY Muscle Team 20th Anniversary Charity Gala - MDA's Muscle Team is a high-profile sports dinner where professional athletes join together to put their muscle behind the search to find treatments and cures for muscle diseases. Each athlete is paired with an MDA Buddy, a local child living with a muscle disease.
If anyone knows of a charity event that is in need of philanthropic photography, have them contact PhotoSesh through charity(at)photosesh(dot)com.
About PhotoSesh
PhotoSesh is the easiest, fastest, and most efficient way to book a photographer. Co-Founders Shari and Christopher Seshadri launched PhotoSesh in 2016 and have brought America this new way to seamlessly and securely find a photographer. While gaining significant traction with thousands of photographers across 43 states, Us Weekly describes it as, "PhotoSesh - think: Uber for professional photographers." PhotoSesh provides a platform for Pro photographers to offer their openings at a discount. This keeps photographers busy and helps customers save. PhotoSesh brings to the consumer affordable pricing and much needed transparency that was lacking in the chaotic search & hire process that exists today. There are thousands of PhotoSesh photographers across the country waiting for your request on-demand or scheduled up to 6 months in advance. To see how easy it is to book a photographer in seconds, just download the app and explore the talent around you! Download in the App Store.