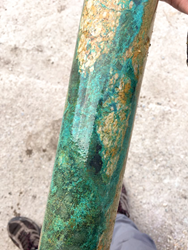 The recent identification of KB's low sulphidation epithermal setting significantly expands our opportunity to explore both bulk tonnage and also high grade gold and copper-gold targets in Georgia.
London, UK (PRWEB) May 03, 2017
These results fit with the new epithermal ore geology model identified by the copper-gold exploration Company and provide further evidence that the three zones currently being explored, Copper Zone 1, Gold Zone 1 and Gold Zone 2, may sit together as part of a much larger deposit. The Company is confident that work in the short term will unify the three zones in line with the Company's objective of delineating a 50Mt+ deposit at KB. The Company has a three phase plan to reach this objective and recently exceeded its Phase 1 target having delineated a total JORC compliant resource estimate of 2.22 million tonnes @ 0.8% Cu and 0.1 g/t Au at a 0.3% Cu cut-off for Copper Zone 1.
GEO Managing Director Greg Kuenzel said, "KB is showing all the signs of being a very significant epithermal Cu-Au deposit with exceptionally high grade areas, as well as bulk tonnage potential. With work ongoing across multiple zones, we look forward to understanding these both separately, but more importantly, together as one unit as we work towards our 50Mt+ target."
Further Information:
The Gold Zone 2 drill campaign continues to intersect significant concentrations of both gold oxide and copper sulphide mineralisation. The gold oxides, typically occurring from surface down to the base of oxidation at between 40 and 70m depth, are followed by intersections of copper minerals in a chalcocite blanket which, based on recent drilling, can extend over mineralised package widths exceeding 100m. In particular, drill hole TGD-044 includes continuous copper mineralisation from the base of the oxide zone to the end of the hole at 120m and is open at depth. Assays have returned 16m @ 15.4% Cu from 47m, including 4.95m @ 40.50% Cu, 0.46g/t Au and 55.6g/t Ag. Additionally the hole has identified continuous gold mineralisation in the oxide zone from surface to the base of oxides at 47m including 24m @ 1.58g/t Au from 1m.
Further drill results related to the ongoing drill programme at Gold Zone 2 are expected to be released in the coming weeks.
See Table 1 for Diamond Drillhole TGD-044 Notable Mineralised Intercepts
For further information please visit http://www.georgianmining.com
About Georgian Mining Corporation
Georgian Mining Corporation has 50% ownership and operational control of the Bolnisi Copper and Gold Project in Georgia, situated on the prolific Tethyan Belt, a well-known geological region and host to many high grade copper-gold deposits and producing mines. The Bolnisi licence covers an area of over 860 sq km and has a 30 year mining licence with two advanced exploration projects; Kvemo Bolnisi and Tsitsel Sopeli. These projects are proximal to existing mining operations which are owned by the Company's supportive joint venture partner. Georgia has an established mining code and is a jurisdiction open to direct foreign investment.
The Company is developing the project in three phases:

Phase 1: H1 2017 target to delineate a minimum of 1-2 Mt to support initial spare capacity (now achieved and exceeded)
Phase 2: 2017 target to delineate a 3-5 Mt resource of combined copper-gold sulphide and gold oxide mineralisation (on target)
Phase 3: Long term target - to delineate a resource of 50Mt+