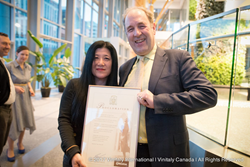 "Edmonton is a small market but an increasingly loyal one that grows through continuity." Anna Abbona of Marchesi di Barolo
(PRWEB) May 03, 2017
May 1st becomes Vinitaly Day in Edmonton, Canada
Don Iveson, Mayor of Edmonton, Canada proclaimed May 1st, as Vinitaly Day, on the first day of Vinitaly Canada - Edmonton during Northern Lands, the most important Food and Wine festival in the country. This marks a beginning of a long lasting relationship between Vinitaly International and Edmonton, the growing gastronomic capital of Alberta, Canada.
"Edmonton is home to a thriving food culture, exemplified by our bustling farmers' markets, great local producers and array of incredible restaurants and craft breweries. The presentation of Vinitaly Canada in Edmonton, serving the best Italian wine, will help attendees learn more about Italy's culinary culture and the significance of wine and food to this country's history and economy", states Mayor Iveson. "Your passion for food and drink will help to enhance the city's reputation as an innovative and enterprising culinary centre".
After an introduction by Bhatia Gurvinder, director of the Northern Lands Festival, Stevie Kim, Managing Director of Vinitaly International received the proclamation from councillor Ben Henderson of Edmonton City Council. The proclamation recites, "Whereas, Italy is the world's top maker of wine, producing more than 50 million hl of wine each year; and whereas, Vinitaly is the world's largest wine show, attracting thousands of visitors to Verona each year; and whereas, Vinitaly's Edmonton program will include trade and consumer tasting featuring 42 Italian wineries; and whereas, this event will help to strengthen Edmonton's reputation as a thriving cultural and culinary centre, therefore I, Mayor Don Ivenson hereby reclaim May1, 2017 "Vinitaly Day" in Edmonton".
"I was definitely not expecting this", comments Kim, delighted. "In fact, if you'd asked me a few years ago if we'd showcase in Edmonton it would've been unlikely. It is because of the interest from the 42 wineries from all over Italy showcasing today. The excitement around Vinitaly Edmonton has been encouraging. And to have Vinitaly Day declared by the Mayor is such an honor, especially on May 1st, which is both an Italian and an international Holiday—Labor Day—celebrating workers. So it is really Gurvinder's fault as he is truly our workaholic Italian Wine Expert behind Vinitaly Edmonton".
Gurvinder, an Italian Wine Expert certified by the Vinitaly International Academy (VIA) responds, "It is no secret that I have a soft spot for Italy and its great variety of wines. Edmonton is the smallest market in which Vinitaly has ever conducted its international traveling show, and therefore I am truly grateful for the presence of Stevie Kim, Managing Director of Vinitaly International, and Ian D'Agata, Scientific Director of VIA, and all the 42 wineries from all across Italy that participated."
Anna Abbona of Marchesi di Barolo highlights the loyal community of Edmonton: "Edmonton is a small market but an increasingly loyal one that grows through continuity. We have been coming here for 5 consecutive years and I would say our success is due to the fact that we continue to come. Today, I saw a lot of people that I have met before, who have our wines in their restaurants, and who have also come to Barolo. Compared to other markets, people here stick with you. Just like all small countries that are less busy, when they know you personally, they grow fond of you and follow you. It is a form of loyalty that continues on."
Northern Lands, for the first time, presented Italy as the "featured country," and dedicated the 2nd and 3rd of May entirely to Vinitaly Canada - Edmonton. The festival featured comparative tastings with 42 wineries and VIA Executive Seminars led not only by Dr. D'Agata, but also by VIA certified Italian Wine Experts Michaela Morris, and Italian Wine Ambassadors Levi Dalton, William Predhomme and so on.
As beer loses its market share, Canada is one of the fastest growing markets for Italian wine. With a strong interest in wines, there is no doubt that it will soon become one of the most important markets around the world, as Vinitaly International strives to build a bridge between Italian producers and the potential Canadian consumers.
About:
Veronafiere is the leading organizer of trade shows in Italy including Vinitaly (http://www.vinitaly.com), the largest wine and spirits fair in the world. During its 51th edition Vinitaly counted more than 4,270 exhibitors on a 100,000+ square meter area and 128,000 visitors from 142 different countries with more than 30,000 top international buyers (up by 8%). The next edition of the fair will take place on 15 - 18 April 2018. The premier event to Vinitaly, OperaWine (http://www.operawine.it) "Finest Italian Wines: 100 Great Producers," will unite international wine professionals on April 14th in the heart of Verona, offering them the unique opportunity to discover and taste the wines of the 100 Best Italian Producers, as selected by Wine Spectator. Since 1998 Vinitaly International travels to several countries such as Russia, China, USA and Hong Kong thanks to its strategic arm abroad, Vinitaly International. In February 2014 Vinitaly International launched an educational project, the Vinitaly International Academy (VIA) with the aim of divulging and broadcasting the excellence and diversity of Italian wine around the globe. VIA this year launched the third edition of its Certification Course and today counts 79 Italian Wine Ambassadors and 7 Italian Wine Experts.