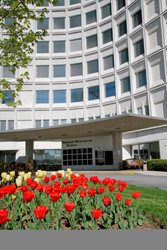 Westchester County, New York (PRWEB) May 04, 2017
Northern Westchester Hospital (NWH) will hold its Annual Benefit themed "Leading The Way, Together" on Saturday, November 18, 2017 at the Saw Mill Club, 77 Kensico Drive, Mt. Kisco, New York. The Hospital will pay tribute to physician honoree, David William Miller, MD, Chief of Anesthesiology and community honoree, Nancy Karch, Chair of Northern Westchester Hospital Board of Trustees. The benefit co-chairs are Albert and Doris Chance and Steven and Harriett Libov.
"Dr. Miller and Nancy Karch exemplify the long-standing tradition of community engagement and steadfast leadership that have been constants since the founding of Northern Westchester Hospital over 100 years ago. They have been unstinting with their time, energy and expertise. Their generous intellectual contributions and financial support have helped position Northern Westchester Hospital as a leading regional provider, an innovator in the delivery of healthcare, and an unfaltering community resource," says Joel Seligman, President & CEO, Northern Westchester Hospital. "Their dedication to the health and well-being of our community is commendable and an inspiration for many. It is with great pride that we honor them at our annual benefit."
Dr. Miller, a resident of Armonk, New York, and a MEDNAX-affiliated anesthesiologist, has served as Chief of Anesthesia at NWH since 2003. He is a member of the Northern Westchester Hospital Medical Board, Board of Trustees and Foundation Board. "During his tenure, Dr. Miller has recruited and mentored some of the most talented clinicians in the field. His commitment to excellence, high standards, state-of-the art technology and patient-centered care has helped create one of the region's most outstanding surgical programs," said Marla Koroly, MD, FACP, MBA, Chief Medical Officer and Senior Vice President of Medical Affairs, Northern Westchester Hospital.
In addition, he and his wife Lauri are active philanthropists and benefactors of Northern Westchester Hospital, contributing to the Laurie Bass Sklaver Infusion Center and the Capital Campaign for the first phase of the Hospital's Surgical Services Modernization, and donating to the Leukemia Society and the Ovarian Cancer Research Fund.
"I am thrilled and grateful to be honored at this year's benefit," said Dr. Miller. "As both a member of the community and the clinical leadership team, I have immense pride in this institution. I'm humbled by the recognition, and thankful that I'm afforded the opportunity to contribute to the success of such a worthwhile organization."
Ms. Karch, a resident of Katonah, is a former Senior Partner of the international consulting firm McKinsey & Company where she spent 26 years; she joined the Northern Westchester Board of Trustees in 2006. Since then, she has been involved in some of the most consequential decisions in the Hospital's history. She played a key role in the development of Northern Westchester Hospital's strategic plan, as well as a new master plan for its campus which, last spring, resulted in the opening of six, new fully-integrated operating rooms and a new pre- and post-operative suite with 14 private bays.
Under the leadership of immediate past Board Chair The Honorable Robert Spolzino, Ms. Karch chaired the committee that led the search for a new parent, culminating in January 2015, when Northern Westchester Hospital became part of Northwell Health, New York State's largest healthcare system. When she became Chair of the Board in 2015, Ms. Karch led the transition, ensuring that Northern Westchester Hospital received effective representation within Northwell at the system level. In 2015, she was appointed to serve on Northwell Health's Board of Trustees.
"We are honoring Nancy Karch for her extraordinary leadership of and commitment to Northern Westchester Hospital. Nancy has given generously of her time and expertise to ensure this Hospital is well-positioned to meet the needs of our community for decades to come. As a well-respected leader in business and the nonprofit community, her philanthropic support is an endorsement and a testament to her commitment to the Hospital's success: A commitment she's shown for over 10 years," said Mr. Seligman. Most recently, Ms. Karch has been leading the way as Northern Westchester Hospital redefines its role as a leader in community health and wellness and the impact the Hospital has outside its four walls.
"Northern Westchester Hospital is exceptional. I am honored to be recognized by such an esteemed organization, and I'm even more grateful for the opportunity to contribute to its ever expanding excellence and positive impact on our community," stated Ms. Karch. "The impact of high-quality care, the significance of engaged patients and families, the importance of supporting the caregiver, and the value of community wellness and education are understood and embraced by every staff member, enabling the hospital to serve its mission, and thrive. It is a privilege to be one of the many supporters of Northern Westchester Hospital and the Northwell Health System."
The "Leading The Way, Together" benefit will take place at the Saw Mill Club and the menu will be provided by Abigail Kirsch. Cocktails begin at 6:30 p.m. with dinner at 8 p.m. For additional information, please contact Gaby Golod Greenwald at 914.242.8392 or ggreenwald(at)northwell(dot)edu.
About Northern Westchester Hospital
Northern Westchester Hospital (NWH), a member of the Northwell Health, provides quality, patient-centered care that is close to home through a unique combination of medical expertise, leading-edge technology, and a commitment to humanity. Over 650 highly-skilled physicians, state-of-the-art technology and professional staff of caregivers are all in place to ensure that you and your family receive treatment in a caring, respectful and nurturing environment. NWH has established extensive internal quality measurements that surpass the standards defined by the Centers for Medicare & Medicaid Services (CMS) and the Hospital Quality Alliance (HQA) National Hospital Quality Measures. Our high-quality standards help to ensure that the treatment you receive at NWH is among the best in the nation. For more information, please visit http://www.nwhc.net and connect with us on Facebook.
About Northwell Health
Northwell Health is New York State's largest health care provider and private employer, with 21 hospitals and over 550 outpatient facilities. We care for more than two million people annually in the metro New York area and beyond, thanks to philanthropic support from our communities. Our 61,000 employees – 15,000+ nurses and nearly 3,400 physicians, including nearly 2,700 members of Northwell Health Physician Partners -- are working to change health care for the better. We're making breakthroughs in medicine at the Feinstein Institute. We're training the next generation of medical professionals at the visionary Hofstra Northwell School of Medicine and the School of Graduate Nursing and Physician Assistant Studies. And we offer health insurance through CareConnect. For information on our more than 100 medical specialties, visit Northwell.edu.