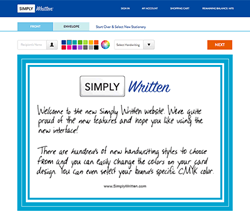 Digital handwriting bridges the gap between company and consumer to create a personal connection.
Pittsburgh, Pennsylvania (PRWEB) May 09, 2017
Simply Written announces the launch of its newly improved website, SimplyWritten.com. New features, expanded design options, and a modified pricing structure are just a few of the exciting developments available on the updated site.
"Our clients have been continuously satisfied, and often even a little shocked, by how their response rates climb after sending a Simply Written note," says Vice President Luke Teboul. "Digital handwriting bridges the gap between company and consumer to create a personal connection. The technology is innovative and the results are impressive."
Now SimplyWritten.com makes it even easier for marketers to leverage this incredible resource. New and returning visitors to the Simply Written website can expect an expanded list of features including:
Expanded Handwriting Library: the vastly expanded handwriting library now offers 200 unique writing styles. With so many unique handwriting options, brands will have no trouble selecting the perfect style, whether it mimics their CEO's own handwriting or completely embodies their brand voice.
Improved Template Designer: creating and customizing Simply Written notes is easier than ever. The improved template designer offers enhanced customization abilities, a wider color range and the capability to select exact CMYK values for optimum brand compliance.
Advanced Contact and Account Management: by incorporating client feedback, Simply Written has made navigating and using SimplyWritten.com even easier. Users can now save templates, handwriting styles, and address books quickly to create future projects effortlessly.
Updated Pricing Model: a monthly subscription is no longer required and purchased credits last all year. This improved pricing model offers greater flexibility and ensures marketers make the most of their time and investment.
Current Simply Written clients already have access to these new features. Business owners and brand marketers can visit SimplyWritten.com to learn more about what digital handwriting is and how it can transform their brand marketing. To experience Simply Written first-hand, request your free card sample today.
About Simply Written
Simply Written is a unique, business-to-business e-commerce website that equips businesses with the power to revolutionize their business relationships – one handwritten note at a time. Created in 2015 through a partnership between BlueSky ETO and Gracious Eloise, Simply Written uses an innovative, patented handwriting technology that precisely replicates your personal handwriting into a digital format for fast, easy, and visually appealing notes in your chosen handwriting.