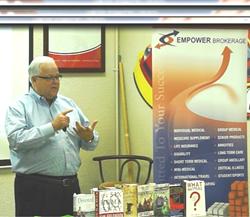 Bronson says, "...Empower Brokerage is the most helpful and active FMO I've ever seen. We all work very hard to help agents and to make sure consumers have the best, most informative, experience possible."
Southlake, Texas (PRWEB) May 05, 2017
Texas-based insurance FMO, Empower Brokerage, boasted more than 100 insurance agents, stationed in 54 Walmart stores across the country, in last year's Walmart Retail Program for the 2016-2017 Annual Enrollment Period (AEP) and Open Enrollment Period (OEP).
Agents represented the top-rated insurance carriers for both the senior Medicare market, as well as the individual health market under the Affordable Care Act. Carriers such as Humana, Aetna, United Healthcare, Cigna and others were represented. This year they expect an even bigger and better turnout, as people begin to explore their updated options.
To prepare for the program, Empower Brokerage is ensuring they provide agents with contracts from the best carriers for both the under and over 65 age market. With so many changes circulating in the healthcare industry, insurance plans, specifically on the individual market, intend to offer more choices. A recent ruling by the Centers for Medicare & Medicaid Services (CMS) now enables insurers to develop more choices with lower premium options for consumers. In response to this ruling, Empower Brokerage is stepping up their outreach and training programs, to make sure agents know exactly what is available to consumers.
"Our Marketing Department is hard at work to make sure everyone knows the latest updates in both the Medicare and Health Insurance product areas. This year promises to be our biggest year yet," said William Bronson, Empower Brokerage Marketing Director. The Empower Brokerage consumer information for Individual Health Insurance can be found at https://empowerhealthinsuranceusa.com
As for the senior market, Empower Brokerage continues to offer the top carriers in the Medicare Advantage (MA) and Medicare Supplement market. Since Medicare Advantage is heavily regulated, Empower Brokerage also provides extended agent support, during AEP. Sherri Miller, MA specialist and compliance officer for Empower Brokerage, assists agents prepare for AEP by ensuring agents are properly certified with AHIP and the necessary carriers. Medicare Supplement consumer information can be found at https://empowermedicaresupplement.com
Sherry says, "We are extremely vigilant about compliance, and we strive to teach agents how to understand and comply with the latest regulations."
Though contracting and certifying is paramount to an agent's success in the Walmart retail kiosk program, it's equally important agents are equipped to market their products. This entails extensive training and compelling marketing materials. Empower Brokerage offers extensive training in their online University, as well as customized individual training. Agents have access to product specialists, sales trainers, carrier reps, and marketing experts to fully learn about compliance, sales, and prospecting strategies.
Bronson says, "There's really not much we won't do to help our agents become successful. Empower Brokerage is the most helpful and active FMO I've ever seen. We all work very hard to help agents and to make sure consumers have the best, most informative, experience possible."
In tandem with training and marketing, Empower also keeps agents up-to-date on the program's requirements. Not only must agents manage carrier requirements and government regulations, but they must also maintain compliance throughout the entire program. To help them do so, Empower Brokerage conducts a two-part outreach through call campaigns, as well as email. Before the program even begins in October, Empower guides agents step-by-step through the registration process. Andrea Hektner, Marketing Specialist and Communication Liaison for the program, says communication between the FMO and agent is the key to success. She adds, "With carrier certifications, CMS regulation overlays, AHIP, program training, mandatory hours, reporting, compliance, relationships with Walmart management… Agents have to manage so much. We help them manage it all so that they can direct their attention to what's important – helping clients."
According to program veterans, Empower Brokerage has certainly succeeded in creating a productive experience in the Walmart Retail Program.
Agents anticipate the AEP all year long. When it comes, the successful agents are ready. They enjoy year-round business and referrals from their happy customers. The Walmart retail kiosk program helps agents meet people. And, developing a rapport with people is the key to success in the insurance business. Empower Brokerage helps independent life & health insurance agents learn, earn, and succeed.
For more information about working with Empower Brokerage, contact us through our website, at https://www.empowerbrokerage.com/company/contact/