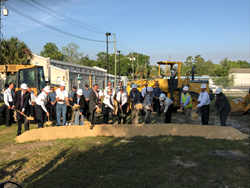 It has taken a real collaborative effort by the entire team to get to this point and now be in a position to make this project a reality. -Joe Frisco, operations manager
Gainesville, Florida (PRWEB) May 04, 2017
Local city officials, Gainesville Fire and Rescue and the community joined Gilbane Building Company to celebrate the groundbreaking of the new Gainesville Fire Station No. 1.
Gilbane will serve as the Construction Manager at-Risk for the new landmark building which will be built directly across the street from the original station built back in 1962. The new 24,000-square-foot fire station provides 3 large drive-thru apparatus bays and 2 small vehicle bays with polished concrete floors. The first level serves as the main operating area and, in addition to the apparatus bays, includes bunker gear storage, training areas, a spacious commercially-equipped kitchen and dining area, briefing room and other operations and infrastructure support spaces. The second level consists primarily of sleeping quarters, storage rooms, lieutenant offices and quarters, laundry room, and physical agility space.
"Gilbane is excited to move forward with the construction phase of the new Fire Station 1," said Joe Frisco, operations manager for Gilbane. "It has taken a real collaborative effort by the entire team to get to this point and now be in a position to make this project a reality. We are happy for the City, Gainesville Fire and Rescue and all of the residents that will be better served by this state-of-the-art facility."
The project, designed by Bentley Architects + Engineers, Inc., is anticipated to be completed in approximately 9 months, and is targeting LEED® Silver certification.
Gilbane provided construction management services for the recently completed Fire Station, Administration, and Headquarters facility for the City of Fort Myers Fire Department, which included Fire Station No. 1, operations area, crew quarters, fleet fueling, meeting, training, and Fire Administration and Fire Prevention spaces.
About Gilbane Building Company
Gilbane provides a full slate of construction and facilities-related services – from pre-construction planning and integrated consulting capabilities to comprehensive construction management, general contracting, design-build and facility management services – for clients across various markets. Founded in 1873 and still a privately held, family-owned company, Gilbane has more than 50 office locations around the world. For more information, visit http://www.gilbaneco.com. http://www.gilbaneco.com/build-with-us/news-room/press-kit/