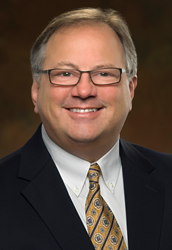 "After hearing positive reports from current employees, I decided that New Penn would be the place for me."
Philadelphia, PA (PRWEB) May 04, 2017
New Penn Financial announced today the hiring of Charlie Thompson http://www.newpennfinancial.com/cthompson as branch manager at the company's newest branch in Nashville, Tennessee. Mr. Thompson has spent 20 years in the mortgage industry. In 2012 he was named Community Lender of the Year by the Mortgage Bankers Association of Nashville, and he has served on the Lender Advisory Board of the Tennessee Housing Development Agency (THDA), which aspires to expand safe and affordable housing opportunities to low income Tennesseans.
"I decided to join New Penn after researching the company," Mr. Thompson said. "There leadership is very organized and consistent. After hearing positive reports from current employees, I decided that New Penn would be the place for me."
"Charlie Thompson is a highly regarded loan officer in Nashville," said David O'Block, Region Manager in Knoxville. "His work ethic comes from an understanding and appreciation for homeownership, and a sense of respect for what it means to his clients. We are extremely happy that he is joining New Penn Financial in Nashville."
About New Penn Financial
New Penn Financial® continues to assemble deeply experienced and highly seasoned industry leaders making us one of the fastest growing lenders in the nation. As a direct lender and servicer, we have positioned ourselves to be able to provide loans that serve a variety of scenarios. This allows us to assist more customers while maintaining the highest compliance standards and ensuring great customer service at every stage. Our leadership has successfully and strategically directed their teams to be prosperous during the downs of a challenging economy while capitalizing on the potential of a robust one. This depth of wisdom and focus on quality allows us to innovate with confidence, develop superior products, provide exceptional service and support, and back it up with the kind of solid foundation that is renewing the American Dream, all across the country.