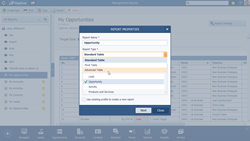 Los Angeles, CA (PRWEB) May 05, 2017
In addition to all of the current powerful Pipeliner reporting features this new Advanced Reporting capability allows users to combine any record type (opportunities, leads, accounts, contacts, products, feeds, notes, activities) or report type (standard or pivot) into one single report, using the new Report Builder functionality. In keeping with Pipeliner's ongoing commitment to usability, the Report Builder is a visual, intuitive editor for reports. The Report Builder screen allows a user to work with opportunities, accounts, leads and contacts, and define their relations. They can also work with report fields, and define custom filters for each report type.
This release also sees more productivity enhancements with the inclusion of a new set of labels for opportunity management that increases the ability to instantly identify and focus on opportunities that require attention. These labels are:

Focus: strategic or important opportunities that should be focused on
Hot: opportunities where the prospect is particularly active & needs to be worked immediately
Stalled: opportunities that have lost momentum & need to be reassessed
Activity Management has also been enhanced with the ability to add other Pipeliner CRM users as well as external contacts to an Appointment as well as the ability to track email as activity.
"Our latest release Chronology unlocks even more instant intelligence with its visual Report Builder. This new feature allows users to make informed business decisions based on a wide variety of data inputs as well as providing multiple ways of looking at that data. No other system on the market provides the reporting flexibility that Pipeliner CRM does." Nikolaus Kimla - Founder & CEO of Pipeliner
"As our product continues to evolve so does our company and already in Q1 2017 we have seen significant year over year revenue growth which has allowed us to invest in and grow our sales, marketing, customer support and development teams." Kimla continued "Something we will continue to do throughout the coming months".
This release also sees some enhancements to Pipeliner's market-leading mobile CRM app which now includes a powerful pipeline view as well as the new opportunity labeling feature and the fully integrated KPI dashboard.
About Pipeliner CRM
Pipeliner CRM is a software system that enables salespeople and teams to understand their sales process and accelerate opportunities toward a close, while saving time and maintaining focus. Pipeliner CRM overlays organizational features atop a visual interface, creating a worktool that adapts to and grows with the organization.
Headquartered in Los Angeles, California and Vienna, Austria, Pipeliner CRM has offices in the UK, Sweden, Slovakia, and India. Engage with us on Facebook, LinkedIn, and @PipelinerCRM or visit us at http://www.PipelinerCRM.com