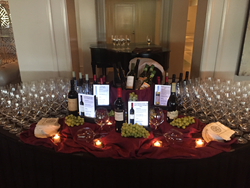 We strive to enhance our member's lives each day and our Wine Program helps us keep that promise by taking their dining experience to the next level.
Boca Raton, FL (PRWEB) May 04, 2017
St. Andrews Country Club received the Merit Award from the Club Managers Association of America (CMAA) International Wine Society for establishing and maintaining one of the best fine wine menus and programs within the private club industry.
According to the CMAA International Wine Society, "The objective of the Wine Program Awards is to annually recognize the best club wine programs and laud CMAA member-managed clubs that establish and maintain wine programs for their membership. The awards are meant to be a hallmark of quality and assurance of an eminent wine program."
St. Andrews Country Club offers many wine centric dining events. One being a four night dinner series called the Herb Garden Wine Dinner. Herb Garden Wine Dinners are extremely popular among the members known for its unique cuisine, complimentary wine pairings and romantic dining setting on the clubs home grown herb garden patio during sunset. Another event, the Wine & Dine Dinners are offered every Wednesday during the summer. Members enjoy six complimentary wine tastings to pair with their dinner which allows the members to try new wines in a unique dining experience. St. Andrews also offers a variety of member favorite premium and iconic wine brands at a significantly lower price than anywhere else.
"Our goal is to continue to grow our wine program in every way possible," said Federica Davis, Director of Club Operations. "Our current program encourages our members to use our cellar space for their private wine selections to enhance their dining experience by having their favorite wines readily available. We try to strengthen our staff and member communication and education to create wine discussions. The more we continue to educate, taste and discuss wine the riper our future will be," Davis concluded.
"We strive to enhance our member's lives each day and our Wine Program helps us keep that promise by taking their dining experience to the next level," said Craig D. Martin, C.C.M. General Manager/C.O.O. "Our commitment is to offer our members a distinctive and personalized experience each time they dine at their club. Our wine program gives our professional staff the tools and knowledge to enforce that promise."
About St. Andrews Country Club
St. Andrews Country Club of Boca Raton, resident-only Distinguished Club of the World and ranked in the Top Ten of America's Healthiest Club's is internationally recognized for magnificent estate residences and recently approved $25 million in renovations. Phases II and III of the Club Improvement Plan include the construction of a brand new Spa beginning spring 2017 and a complete renovation of the Fitness/Tennis building beginning in spring 2019. The Club features superior amenities, two 18-hole championship golf courses, including an Arnold Palmer Signature Design® and the brand new Fazio II designed by Tommy Fazio II. The club offers a comprehensive Golf Performance Center with indoor hitting bay, private practice area, V1 Digital Coaching System and FlightScope Launch Monitor® technologies, and a Callaway Golf® branded club fitting area. The Club features a full service spa and fitness center and a 125,000 square foot completely remodeled Clubhouse with five dining venues. A pristine Recreation & Aquatic Center features three pools, poolside dining, Splash Club and state-of-the-art playground equipment and air-conditioned game room. St. Andrews has played host to numerous PGA golf exhibitions led by touring pros such as Phil Mickelson, Arnold Palmer, John Daly and Rocco Mediate, and is the home course to LPGA Touring Professional and resident Morgan Pressel. St. Andrews, along with Aaron Krickstein, Director of Tennis, host a variety of exhibition matches with ATP Tour such as Jimmy Connors, Andy Roddick, Jim Courier, Ivan Lendl and Jimmy Arias. Please visit http://www.standrewscc.com or follow us on Facebook, Twitter, LinkedIn, YouTube, Pinterest and Instagram.