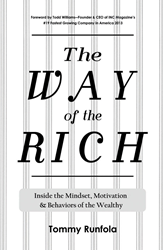 Rich people have cut through the myths and taboos of wealth and have given themselves permission mentally, emotionally, and spiritually to be in a mindset where they feel entitled to wealth and worthy to receive it."
Conshohocken, PA (PRWEB) May 29, 2017
"The Way of the Rich: Inside the Mindset, Motivation, and Behaviors of the Wealthy." http://www.TheWayoftheRich.com
Tommy teaches readers how to overcome self-doubt, become stronger and more confident and start thinking, acting and living like some of the richest people in the world. Runfola believes that using the insights outlined in this book will help readers get rich and stay rich. "This book is a game-changer to readers everywhere," says Runfola. "The goal is to 'Doubt Whisper' 10-million humans' mindset and change the course of 10-million lives."
"The Way of the Rich" explains that the most successful people can visualize being highly successful before it happens and that this type of mindset eventually makes it true.
"If people believe they can't be rich or successful," Runfola explains, "they probably won't. But changing how one thinks and reprogramming the mindset can have a dramatic effect on a life and can change the course of an entire future."
In "The Way of the Rich," Tommy outlines ways to change one's thinking so that positive things can happen from gaining wealth to losing weight, to having great, meaningful relationships. Runfola notes that some of the wealthiest people alive today understand and use this way of thinking. The bottom line is this: "thoughts control outcomes."
Runfola's book is filled with inspiring stories that engage and entertain. He also provides real-life examples of people who changed their thinking and changed their lives to a wealthy and positive direction forever. Tommy's approach is both interesting and inspiring. Runfola recounts several stories of self-made millionaires who started with nothing and who share the same can-do mentality and explains that these extremely rich individuals have a different energy and understanding about money and success.
"Rich people have cut through the myths and taboos of wealth and have given themselves permission mentally, emotionally, and spiritually to be in a mindset where they feel entitled to wealth and worthy to receive it." Runfola notes "wealthy people take on challenges while poorer people tend to assume challenges cannot be overcome. It's a mindset."
Tommy Runfola is host of the nationally syndicated radio show "Makin' It," and President & CEO of three thriving businesses: 21 Productions Studios, TMR Group and Tommy Runfola Personal Development. Tommy has bought and sold various businesses worth millions of dollars, he was a "rags-to-riches millionaire" by the time he was 30, he has worked with five US Presidents and Vice-Presidents and he was a 2004-2005-National-Entrepreneur-of-the-Year nominee.
Entrepreneur and self-made millionaire Tommy Runfola's book, "The Way of the Rich: Inside the Mindset, Motivation, and Behaviors of the Wealthy" is available through Infinity Publishing at http://www.buybooksontheweb.com, and at http://www.TheWayoftheRich.com, http://www.TommyRunfola.com and other online retailers such as Amazon and Barnes & Noble. Infinity Publishing is a leader in the self-publishing industry and has over 7,000 published authors. The company has been changing the way authors think about self-publishing since 1997.