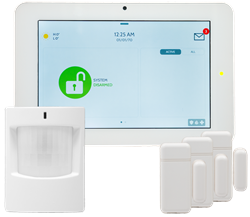 The Qolsys IQ Panel 2 is the most state-of-the-art wireless security system ever created
West Palm Beach, FL (PRWEB) May 04, 2017
While Qolsys took the rest of 2016 to continue development of the IQ Panel 2 wireless security system they began their beta testing program around April 2016 which is when they selected a few security companies to test the functionality of the system. During the beta testing program, these companies send their feedback to Qolsys and they work the kinks out before releasing the panel for sale. Geoarm was one of the first to receive a beta panel and was very honored to participate in the testing program.
Now that the IQ Panel 2 has been released to the public this opens the door for DIY installations which is becoming the most popular and cost effective way to obtain security in homes and business's. Since the IQ Panel 2 was announced in 2016 there have been more pre-orders and inquiries than any other security system ever released. Below you will find all of the key benefits that have been discovered after beta testing the IQ Panel 2 system.
The IQ Panel 2 has six key components; The IQ Panel 2, a new line of encrypted S-Line sensors, integrations with Google Nest/T2000 Alarm.com smart thermostats, Skybell HD Video Doorbell (ADC-VDB101), Alarm.com interactive alarm monitoring services and image sensor capabilities.
The IQ Panel 2 looks similar to the previous Qolsys IQ Panel (1st generation) but, it's not. Qolsys has made some innovative upgrades to the IQ Panel 2 such as;
Reduction in Size – The IQ Panel 2 has been reduced to 5" H x 7.75" W x .75" D which is about the size of a mini tablet and significantly smaller than any other system on the market.
Qualcomm Snapdragon Quad-Core 400 Processor - a highly integrated system-on-a-chip (SoC) that supports AT&T® or Verizon® LTE cellular, Wi-Fi®, Bluetooth® and HD display. The IQ Panel 2 includes four field replaceable radio slots for current and future connectivity. Because of the quality of the processor and Android software, the IQ Panel 2 can speak custom words you assign to zones. Qualcomm® Snapdragon 400 is a product of Qualcomm Technologies, Inc., a subsidiary of Qualcomm Incorporated.
Increased Touchscreen Resolution & Functionality – the IQ Panel (1st generation) had an 800 * 480 screen resolution with resistive single touch which for its time was sufficient. The IQ Panel 2 has upgraded to a 1280 * 800 capacitive glass multi-touch screen which can be seen from the moment you power the panel up.
Next Generation LTE Cellular Alarm Communicators – Unlike any other all-in-one wireless security system to date the Qolsys IQ Panel 2 is the first to incorporate LTE cellular alarm communicators. LTE stands for Long Term Evolution and can allow the IQ Panel 2 to report signals to a central monitoring station until the year 2033. In addition to offering end users more longevity, LTE can offer faster reporting speeds and better coverage.
Encrypted Security RF and Z-Wave Plus Radios – With technology rapidly growing and end users more concerned about possible intruders jamming their RF and Z-Wave devices before entering, Qolsys has added an S-Line Encrypted 319.5 MHz and Z-Wave Plus radios to the panel. These radios allow for up to 128 wireless zones while still allowing for use of previous legacy 319.5 and Z-Wave none encrypted sensors, allowing for easy upgrades. The new S-Line and Z-Wave Plus sensors sport a much longer wireless nominal signal range, which allows for more flexibility in applications with larger square footage. The Z-Wave plus radio allows for less delay in controlling your Z-Wave Plus home automation devices.
Improved Front Mounted Camera – The IQ Panel 2 has added a 5mp front mounted camera which is a huge step up from the previous 3mp camera on the IQ Panel (1st Generation). The jump from 3 to 5 megapixels doesn't seem like much but in reality, it allows for much clearer photos and videos to be sent when using the Alarm.com interactive application.
Adding a Built-in Dual-Band Wi-Fi router – Unlike any other security system to date the Qolsys IQ Panel 2 has added a built-in Dual Band 2.4/ 5G Wi-Fi router with a private network so that when you pair Wi-Fi powered devices such as (IQ Remote secondary keypad), Skybell HD Doorbells and Alarm.com wireless IP cameras, so you never have to relearn them even if you ever get a new router. In addition, the internal Wi-FI router allows the Wi-FI powered devices to have a better connection because they are running on a private network separate from any devices such as video games, streaming music or movie downloads.
Other innovative features include Bluetooth disarming, a built-in Panel Glass break detector and a built-in motion sensor from the on board 5mp panel camera.
In conclusion, the Qolsys IQ Panel 2 wireless security system is perfect for all DIY installations. Geoarm has provided end users with an array of how-to-videos, FAQ's and all of the product installation manuals to make the installation a breeze.