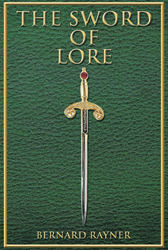 (PRWEB) May 08, 2017
PERTH, Australia (May 8, 2017) – An Australian-based author has published his first children's novel in which good and evil go head-to-head. "The Sword of Lore," by author Bernard Rayner, takers a child's fantasy of living in a magical world and turns it on its head.
In 'Lore,' readers are introduced to main character, Erol, a young man living in a world being threatened by an evil magician. In order to have good triumph evil, a magician has chosen Erol to battle the evil magician. With the help of his friends (elves and dragons), Erol battles this magician head-on and must defeat him in order to save his country.
Rayner wrote this book in an effort to teach his grandchildren the difference between good and evil. He hopes his grandchildren will think of him whenever they look at this book.
"I want them to have something to remember me by," Rayner said. "I tried to keep the theme of 'good' always coming out on top and I hope that message gets across to them."
Chronicling the actions of a young magician as he must protect the world, "The Sword of Lore" is sure to catch the attention of any child.
"The Sword of Lore"
By Bernard Rayner
ISBN: 978-1-51449-631-2 (hardcover); 978-1-51449-630-5 (softcover); 978-1-51449-629-9 (electronic)
Available at Xlibris Bookstore, Amazon and Barnes & Noble
About the author
Bernard Alan Rayner was born in Kent, England, in 1938. He migrated to Australia in 1948 and lived in Queensland for several years. This is Rayner's first novel. For more information about Rayner and his book, please visit his website.
###
Review Copies & Interview Requests:
LAVIDGE – Phoenix
Chris Peña
480-998-2600 x XXX
cpena(at)lavidge(dot)com
General Inquiries:
LAVIDGE – Phoenix
Bryan Beach
480-998-2600 x 510
bbeach(at)lavidge(dot)com