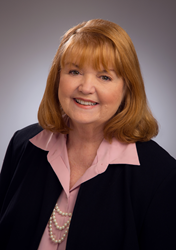 Gilbert, Ariz. (PRWEB) May 08, 2017
Wisdom Natural Brands®, makers of SweetLeaf® Stevia Sweetener, is pleased to announce that Carol May has been appointed Chief Executive Officer and Chairman of the Board. Michael P. May, Ph.D., will now step into the role of President previously held by Carol May, from his former position as Chief Operating Officer and Executive Vice President. The changes are effective immediately.
Overseeing global strategy, operations, finance, marketing, branding, distribution, and new product development, Carol May has been integral in moving Wisdom Natural Brands from a small Arizona company to a multi-million-dollar international brand competing with the world's largest companies in the rapidly growing natural and specialty food industries.
Wisdom Natural Brands now does business in more than 30 countries and throughout the United States. SweetLeaf is the No. 1 sugar alternative sweetener in natural and health food stores and No. 2 in mainstream grocery stores.
Continually at the forefront of innovation, Wisdom Natural Brands and SweetLeaf are industry leaders credited with establishing stevia as a mainstream product in the U.S. Under May's direction, the company will continue to develop groundbreaking products which deliver on its mission of making the world a sweeter place.
This includes partnering with national organizations to encourage consumers to reduce or eliminate the amount of added sugars in their diets. Also among the company's continued objectives is expansion of Wisdom Natural Brands' ingredient division, which supplies proprietary sweetener blends for food manufacturers.
With ever-growing national attention on the need for alternative sweeteners, Wisdom Natural Brands is excited to continue to provide and develop better-for-you sugar substitutes for consumers and manufacturers alike.
For more information about SweetLeaf, visit SweetLeaf.com. For interviews with company leadership, please contact the names listed at the bottom of the release.
About WISDOM NATURAL BRANDS®
Gilbert, Arizona-based Wisdom Natural Brands® is the parent company of two highly respected and award-winning consumer brands: SweetLeaf® Stevia Sweetener and Wisdom of the Ancients® herbal teas. For 35 years now, Wisdom has been the leading stevia expert and industry pioneer. SweetLeaf is the stevia sweetener with zero calories, zero carbohydrates, a non-glycemic response, no sugars, and no artificial ingredients. The only stevia brand to be named a Top Wellness Company and to receive 29 global awards for taste and innovation, SweetLeaf is sold in boxes containing 35 or 70 packets, shaker jars for easy home use, and SweetLeaf SteviaTabs®, dissolvable tablets, for on-the-go use. Offering consumers additional high-quality choices, SweetLeaf Organics are sold in 35- and 70-count packet boxes and a shaker jar. SweetLeaf SugarLeaf® bonds SweetLeaf Stevia® and cane sugar for a low-calorie sugar alternative that is perfect for baking and cooking with 2/3 fewer calories than sugar. SweetLeaf 2-oz Liquid Stevia Sweet Drops™ add flavor, without calories, carbohydrates, or artificial ingredients, to foods and beverages. SweetLeaf Water Drops™ add delicious flavor to still or sparkling water.
Additionally, Wisdom of the Ancients® herbal teas, from energizing Yerba Maté Royale® to calming Sympacho®, are available in tea bags and loose tea and come in a variety of beneficial flavors. SweetLeaf and Wisdom of the Ancients products can be purchased online at ShopSweetLeaf.com or in grocery and health food stores throughout the U.S. and Canada.
Website:
SweetLeaf.com