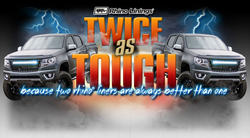 Rhino Linings is dedicated to continued engagement with its consumers.
SAN DIEGO, Calif. (PRWEB) May 09, 2017
Rhino Linings Corporation (http://www.rhinolinings.com), a recognized innovator in the protective coatings industry, best known for its sprayed-on truck bed liners, announced today their "Twice as Tough" promotional giveaway. Four Grand Prize Winners will receive one free coupon to be redeemed for a sprayed-on vehicle application and an additional free coupon to be shared with a person of their choice. All entries will receive exclusive discounts to be redeemed at participating Rhino Linings retail locations.
"Rhino Linings is dedicated to continued engagement with its consumers. We want to introduce existing Rhino Linings users to alternative vehicle applications and win over new prospects by providing the Legendary Protection™ people have come to rely on," said Elaine Luttrell, Vice President of Sales Operations and Marketing.
No purchase is required to enter the Rhino Linings Twice as Tough Sweepstakes. Sweepstakes is open only to U.S. and Canada residents (except residents of Quebec and Puerto Rico) who must be 18 years of age or older on the day of registration. The sweepstakes ends September 30, 2017.
To enter, visit http://www.rhinolinings.com/twice and follow the giveaway entry instructions on the website. Entries are limited to one per person. Other restrictions may apply. Additional details about the promotion and the official rules are available at http://www.rhinolinings.com/twice.
About Rhino Linings Corporation
Rhino Linings Corporation, established in 1988 and headquartered in San Diego, California, is a privately-held corporation and world leader in protective coatings and linings. Products manufactured and distributed by Rhino Linings Corporation include polyurethane, polyaspartic and epoxy coatings, concrete coatings, spray foam insulation and sealants, and interior and exterior stucco. Rhino Linings Corporation has a global retail and industrial applicator network consisting of more than 2,000 independently owned and operated businesses in almost 80 countries. For more information about Rhino Linings Corporation, call 858-450-0441 or visit http://www.rhinolinings.com.