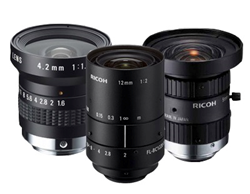 We are honored to be selected as a Premier Distributor for Ricoh and excited about building a successful partnership
Gilbert, Arizona (PRWEB) May 05, 2017
Aegis Electronic Group, Inc. has been an elite distributor of Ricoh Industrialized Solutions products in North America. In April 2017 Ricoh announced a realignment of their lens division. We are proud to announce Aegis has been selected to continue as a master distributor for the Ricoh Factory Automation (FA) line.
"We are honored to be selected as a Premier Distributor for Ricoh and excited about building a successful partnership together," Sonja Walker, Aegis President, said when asked about this great honor. "Ricoh's top of the line FA lenses give our customers endless choices."
Aegis is a stocking distributor with a wide range of Ricoh products that vary from different mounts, resolutions, and lenses. Ricoh's FL series will enhance even higher production efficiency and reliability. Aegis offers Blanket Purchase Order (PO) options to their valued customers as well as Just In Time (JIT) capabilities.
More information about Ricoh's phenomenal lenses can be found at http://www.aegis-elec.com or by calling (888) 687-6877.