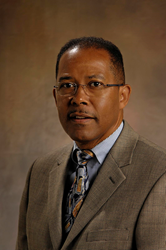 Pomona, California (PRWEB) May 03, 2017
Western University of Health Sciences College of Podiatric Medicine Founding Dean Lawrence B. Harkless, DPM, FACFAS, MAPWCA, will retire on June 30, 2017.
"We have been fortunate to have Larry Harkless at our University as a leader, a mentor, a colleague, and most of all a teacher to the hundreds of students who became podiatrists on his watch," said WesternU President Daniel R. Wilson, MD, PhD. "With unique energy and ambition, he set the College on a path to success by insisting podiatry play a key role in overall patient health as well as by constantly reminding students and staff of the core values of the college: compassion, humility, integrity, truth, quality and service. Larry has been an outstanding ambassador in and for WesternU who will be always welcome and sorely missed."
CPM Executive Associate Dean for Academic Affairs Lester J. Jones, DPM, MS, will serve as Interim Dean while the University conducts a search for Harkless' successor.
Harkless, a native of Texas, joined WesternU in 2007 after serving as podiatry Chair and Residency Program Director at the University of Texas Health Science Center at San Antonio, where he was lauded for integrating podiatric medicine in an academic health center setting. He is a founding member and was the first Chair of the American Diabetes Association Council on Foot Care, and is a past member of the ADA Board of Directors. He is a past president of the National Podiatric Medical Association and the Texas Podiatric Medical Association, and is a Distinguished Practitioner in the National Academies of Practice.
Harkless said he accomplished what he set out to do – start a new school with an innovative curriculum while promoting non-traditional ways of learning. CPM's inaugural class of 23 graduated in 2013. The college received an eight-year accreditation in 2016.
"We're at the right time for new leadership focused on improving our education and research missions," Harkless said. "With new leadership comes new energy and opportunities for growth."
Harkless will turn his attention to mentoring students and advocating for the podiatric medicine profession. He plans to move back to San Antonio and finish a book on the history of the University of Texas Health Science Center San Antonio podiatry program.
"It was the first program that was in a state-supported, academic health center fully integrated at a medical school," Harkless said. "I want the Health and Medicine Division of the National Academies of Sciences, Engineering, and Medicine to study our profession to determine our role in keeping America walking."
Harkless started weekly case conferences and grand rounds while at the University of Texas, where students, residents and faculty reviewed cases, learned how to critically appraise literature from an evidence-based perspective, and covered every topic on the foot and ankle. He started a similar Tuesday conference at WesternU in November 2009, which he will continue to participate in along with Wednesday conferences for third-year students.
Weekly conferences facilitate lifelong learning and hold everyone accountable for growth at the student, resident, fellow, faculty, practitioner and retiree levels, Harkless said.
"If I'm consistent, I'll have a bigger impact on students," Harkless said. "Through that mechanism I'll still be able to be engaged and mentor. That's my strength and where I can help them the most. I'm retiring, but I'm not just going off into oblivion."
Harkless said he will also continue to work on residency development for podiatric medical students in Texas and California. He has planted many seeds in Southern California hospitals, and he wants to continue to grow those opportunities.
Over the course of his career, Harkless has trained more than 1,000 students and nearly 200 residents, and operated his own private practice, The Alamo Foot Clinic Inc. He is the recipient of multiple state and national awards for podiatric research and care, and co-authored the book "Foot and Ankle Secrets," which is a staple among podiatric residents and students.
Harkless said he will miss the students the most. He held a town hall with first- and second-year classes each month to seek input from students and faculty about the issues and concerns they felt were important. The discussions were interactive, informative, inspirational and motivating.
"I felt that I also talked about things that allowed them to become better people," Harkless said. "What students liked about me the most is that I was open, caring and willing to listen and provide insight and perspective to be, behave and become."